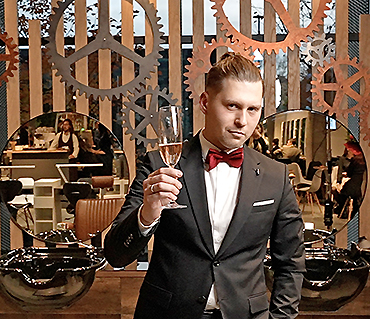 Ředitel Beauty Coworking TIME
100 CZK GROUP
How long has your company been operating on the market?
We have been operating on the market for almost 11 years. We started as a network of Kadeřnictví 100 CZK (now Kadeřnictví No.1). We had and still have the goal of becoming the largest chain of hairdressing salons in the entire Czech Republic, and we are gradually approaching that goal step by step. However, in these years, we have managed to build 2 other projects in addition to Kadeřnictví No.1: Vvitrina.cz – an online store, focusing on beauty and health, and now a completely newly built project – Beauty Coworking TIME – a place where anyone from the field of Beauty and not only can rent a working place starting from for 1 hour.
What are your prospects for development for in the near future?
To fill our Beauty Coworking TIME with the best Beauty professionals, and to provide them with the best professional quality background that exists, and that the beautiful interesting artistic life filled with creativity and passion of the business is finally born and brings only positive emotions to our lovely beauticians. So that they want to come back to us and make Beauty Coworking TIME their second home.
I hope to one day present the largest hairdressing network in the entire Czech Republic, and at the same time have the best place for beauty professionals where they will be able to forget all their worries, because it will simply be timeless.
Your secret of success?
Our success is collective and that's because we have trust and the possibility to be absolutely open and honest. We are already a large, but still family-owned company, and that plays a huge role in what path we have always been able to choose to achieve that success.