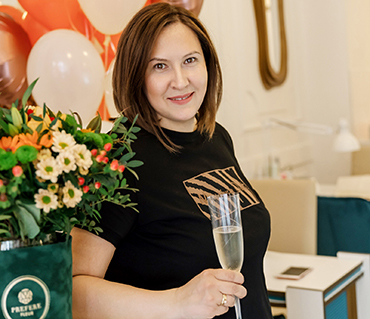 Majitelka salonu Beauty Embassy
How long has your company been operating in the market?
The premium nail salon, Beauty Embassy, has been operating for more than a year and providing all types of manicure and pedicure services.
The main advantage of our salon is the professional team that provides complete disinfection and sterilization, and an individual approach to every client. It is professionalism that guarantees the quality of services, the high level of the salon, and regular customers.
How did you come up with the name of the salon?
The answer is simple. In our city, where there is not much sun and heat, I wanted to have an embassy of beauty, where our guests could enjoy a warm atmosphere at any time of the year.
What are your prospects for development in the near future?
There is always room for improvement. Any business must grow and develop. First of all, we try to constantly increase the number of services and improve their quality. Our nail technicians regularly undergo training and professional development.
Your secret of success?
In my opinion, the main thing is to study everything from the inside, to understand all the details, not to fear anything and to go boldly forward!