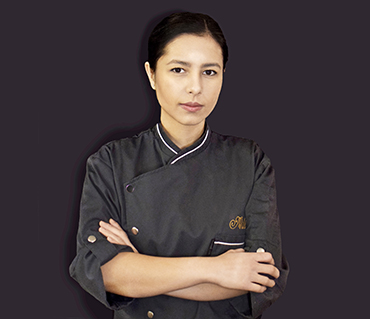 Executive Pastry Chef Café Millème
In what aspects the pastry shop Café Millème is unusual?
We offer a rich choice of desserts, in addition the cakes can be different every day because we have more than 70 different creations. The most important thing is the highest quality of the ingredients from all over the world that we use, because our aim is to give a chance to "discover the taste" and to give the sensation of new flavors. Even when you taste something you know but in a different combination with other flavors it also can be a discovery.
Our hand made production allows us to reduce the amount of sugar by at least 20 % for any average recipe, and gluten free for the majority of our cakes. First of all, it's much healthier, also it helps to make the subtle hints of each flavor stronger to give a great pleasure to our customers. We also create desserts which contain no lactose or eggs. Trust me, their taste, texture and design concede nothing to classic versions of cakes.
What are your prospects for development in the near future?
Starting last year, I started to organize group and individual Master Classes because I need to share the knowledge and experience. I am a creative person to the bone,
I can't help creating more and more new recipes. That's why young pastry chefs from different countries ask to consult me for opening new pastry shops.
It makes me think of opening another shop Café Millème in one of the European capital cities. And I would love to have time to write a book of recipes with amazing pictures.
Your secret of success?
For me self-confidence epitomises the success of life, not to give up your dreams, focus on what is really important for you to reach the goals for which the sky is the limit, nothing is free, work hard, be brave and sometimes step outside your comfort zone and take risks, rely on yourself and hope that fortune will smile on you.