Simple realism Rinat&Lilia AnimaeV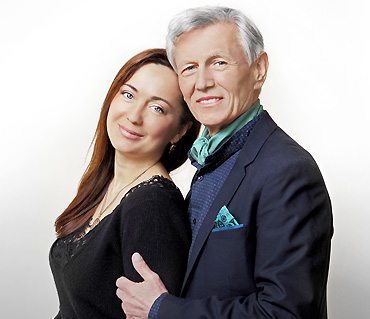 As is known, a man becomes great because of his work, and if beside him there is a woman, who believes that he will certainly achieve success. When a man knows that his woman loves him, it gives him an incentive to become even better and stronger. Who knows what would be the fate of our favorite musicians, artists, directors, and writers if their beloved women were not next to them.
Behind every journey, every great discovery, every military campaign stands a female silhouette. From behind the shoulders of every pioneer, researcher, philosopher, and artist there is a charming woman's face. John Lennon, after meeting Yoko Ono, said: "She is a teacher, and I am a student… Next to Yoko, I became free. Her closeness made me a complete person. Without her, I was only a half."
Thus the meeting of two heroes of our issue – Lilia Gerber Animaeva and Rinat Animaev, both of whom have extraordinarily powerful personalities – made them a happy whole. This couple is perfect. A clever, talented, bright woman and a strong, wise, brilliant man. The artist and his muse.
If a woman is happy, her positive energy is transferred to her man. Psychologists explain by saying that the power of creativity in women is much stronger than in men. These streams of positive energy open all doors for her beloved man, and he becomes lucky and successful in everything. He feels confident and almost all-powerful. No artist created his art without an inspiring muse. Thus Lilia inflames the talent of her artist by sowing new thoughts everywhere – by captivating, conquering, and juggling the brilliant ideas. And not any man is capable of keeping such a beautiful, intelligent, and independent woman. The harmony and beauty in Lilia and Rinat as a couple is striking in its naturalness and aristocratic simplicity.
Lilia Gerber Animaeva
Lilia was born in the city of Magnitogorsk, in a Tatar family of immigrants from the village of Kadrali, Agryzsky District, in the Republic of Tatarstan. In 1931, the whole family was evicted from their native land as "people's enemies" and sent to the great Komsomol construction of the Soviet Union – the Magnitogorsk Metallurgical Factory.
Lilia's mother, who was a violin teacher, and the writer Rimma Khusnutdinova, who was author of the book "I Take Strength from Childhood… Where We All Come From", paid a great deal of attention to the upbringing and education of her daughter.
Lilia became a student of Moscow State Pedagogical University and graduated from it with excellent results. Then she took postgraduate studies at the Institute of Psychology of the Russian Academy of Sciences. In 1993, she defended her thesis on the topic "Research of the Personality's Verbal-Thinking Creativity" and obtained the title of Doctor of Psychology.
Lilia has many publications on psychology in the leading scientific journals of Europe and Russia. She collaborated a lot with the first Russian magazine in Prague – "Prague Lights", which followed in the tradition of "Ogni" magazine, founded by Marina Tsvetaeva and with magazine "Russian word".
Her activities are diverse – a psychologist and psychotherapist, working with such methods as nonverbal techniques, drawing and body-oriented therapy. She is also a yoga instructor and the creator of the unique method "Psychotherapy through yoga".
As the mother of five children, Lilia has had the unique experience of giving birth to and raising children in different countries. Her daughter Lilia, a graduate of Oxford University and the London School of Economics, has her own business and runs it perfectly. The eldest son, Ilia, is a student of the Paris School of Political Science. Mikhail is a student of the University of Strasbourg. And Alexander and Raphael are students of the French Lyceum in Prague.
When you see Lilia's life, you immediately remember that "a talented person is really talented in everything!"
"It was life that taught me not to regret anything. I am grateful to life, to my rich life experience. We come to this world in order to understand who we are, why we are here, and what our mission is. The wisdom is to never regret anything. We should gratefully accept tears and joy, and happiness. And if anything in my life does not happen as I planned, then I am grateful that it has happened in an even better way.
When I met Rinat, I clearly understood that this was true. And the truth is that all my life I was going to this man. God created us for each other. There an Arabic concept called "maktub", which means 'it is written'. It means that somewhere in the heavenly tables He is written down as mine, and I am His. We are those two halves of one whole. And as a whole, we can help each other realize our mission and make the world better and kinder."
Lilia Gerber Animaeva, PhD
Psychotherapist
Individual consultation
Pre-registration at lgerber@seznam.cz
Rinat Animaev
"Painting is a means of expressing feelings. And you can express those feelings only if you have experienced them. Otherwise, they will not fall on the canvas. The main thing is drawing. This is the basis of painting. And colors express emotions. Of course, it is impossible to be a painter without having knowledge of the culture and history of the place where you hail from. Creativity can be different. But it should not destroy beauty. It should not destroy life. I'm against violence. And I value freedom above all."
Rinat Animaev was born on March 24, 1955, in Dushanbe  - seventh child in a large Tatar family. From his childhood, he inhaled the smell of paint, listened to his father, the artist who advised his elder sister on many things: how to hold a pencil, how to work not with your shoulders but with only your hands so as not to get tired, and how to organize a sheet of paper. Later on, Rinat heard the same tips from his professors. He has remembered them all his life, and to this day they are important to him.
When he was 10, he went to an art school, and after finishing it he entered the Dushanbe Art School. He was a student of professors
M. Beknazarov, S. Kurbanov, and A. Besperstov. Then from 1978 to 1984 he continued studying in the Surikov Moscow State Art Institute. His professors were V. E. Artamonov, D. K. Mochalsky, and G. G. Korolyov. In 1986, he joined the USSR Union of Artists.
Since 1989 Rinat Animaev has lived and worked in France. He is a member of the Artists' Union of France and one of the ten best French artists of our time.
His works are in museums and private collections in Russia, Yugoslavia, Belgium, France, Sweden, Norway, the USA, and Japan. Rinat is a participant of Moscow, All-Union, All-Russian, and foreign exhibitions. His permanent gallery is located in Brittany, in the city of Dinan (France). Annual exhibitions of his work are held in Paris and in other French cities.
Rinat Animaev paints in the style of "simple realism". He works in different genres, creating portraits, landscapes, and still lifes with brilliant knowledge of pictorial and graphic techniques. Rudolf Nureyev, Lev Gumilyov, Lyudmila Gurchenko, and many other celebrities have posed for him. In Moscow at Taganka, he painted a portrait of Vladimir Vysotsky and met the poet Ravil Bukharaev.
Most of the Rinat Animaev's works are sketches and paintings made in the open air in France. He appeals to everyday plain motives, discovering them for himself and for the viewer. Aesthetic ideals, professional honesty, virtuosity of manner, colorful textures, and plastic smears are characteristic of his works of art. He is an artist of the Moscow painting school.
Rinat Animaev became famous as a portrait painter. His hand has painted portraits of Vladimir Vysotsky, Rudolf Nureyev, and Alexander Solzhenitsyn.
He got acquainted with Rudolf Nureyev at the end of the 1980s. By that time, Nureyev had already quit his post as the head of the Paris Opera troupe, and in his free time he often walked around the French capital. One of his favorite places was the artists' district of Montmartre. It was in this area that several young artists of Tatar origin, who had left the USSR for different reasons, were trying to settle down. Having heard about the art studio of Rinat Animaev, Rudolf Nureyev visited it. During the conversation, which was in the Tatar language, the host did not waste his time – he painted a portrait of his famous guest. This painting for many years was kept in the artist's studio near Versailles. Recently, Rinat Animaev presented the portrait of Rudolf Nureyev to one of the Kazan museums.
His latest exhibition in Russia, "Paris Spring", was held in the spring 2018 in the Kazan Kremlin at the personal invitation of the President of the Republic of Tatarstan. More than 120 paintings made by the artist especially for this exhibition were on display there. After the first successful exhibition in Kazan in the Gallery of Modern Art of the Kazan City Hall, Rinat dreamed of bringing more of his works to his historic homeland. His dream came true thanks to the active assistance of the President of Tatarstan, Rustam Minnikhanov.
"The artist's profession is the freedom of creativity! And this freedom has no price! We are happy to see sunrises and sunsets, observe how flowers bloom and bees pollinate them, notice how everything changes in the rays of the sun, how tiny particles of moisture refract light and create various shades of colors. We are trying to tell the world about them.