Květuše Mentová and Jiří Janeček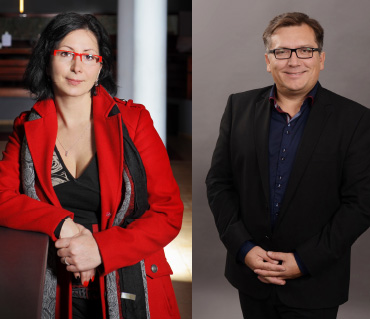 Květuše Mentová and Jiří Janeček are people who run their restaurant and hotel business as if it were a kind of theater. They have thought everything through, down to the smallest details, and their own original concepts, style, and taste are present everywhere. They have turned their businesses into unique projects, providing a boundless devotion and willingness to work in the interest of their clients, and they always bring real results and open new possibilities. They are creative people who are able to attract clients, to make them interested and surprised. They are both professionals and they know everything there is to know in their field. Květuše and Jiří understand the secret of a successful business, so in their restaurants and hotels they offer not just food and accommodation but also a pleasant atmosphere, comfort, and new experiences.
Květuše Mentová is the managing director of Naše pivovary company, which runs several restaurants and hotels. At the moment the company runs the Prague restaurants Pivnice u bazénu, Pavlovín, and U Kalendů, as well as a cafe and a gallery, Michael and Lokai (ex-Koliba), and also four Prague hotels: Ehrlich, Chodov, Na Zámečku, and Michael.
Květuše comes from a southern Czech place called Postřekov. She studied at an economics school in Domažlice, and when she was 18 she left for Germany, where she worked for about ten years in hotel and restaurant services. In the German town of Kötzting she got to like the way the local restaurant clients were serviced. And she enjoys working with people in traditional pubs to this day.
But opening her own restaurant took much more time. At the age of 23 she worked in the office of the mayor of Domažlice, and when she was 25 she moved to Prague to work in the control department of the Ministry of Labour and Social Affairs. She worked for some time at a software company, but after the maternity leave she returned to the ministry again.
In 2014, Jiří Janeček, along with the ex-deputy of ODS party, started Pivnici u bazénu in the Prague district of Chodov, which is famous for its wide range of draft local and foreign beers. The idea came from her partner, who is an avid beer drinker, and she herself welcomed it, as she liked the atmosphere of the traditional pubs she knew from Germany. Mostly she enjoys communicating with people. It is, in fact, both the best and the hardest thing in this line of work.
"At the German restaurant where I was working, the home atmosphere dominated. Regular clients went there and we were like one family. Here people are the same too," she says about the Chodov pub. But the beginning was not easy. At the pub's location there was originally a Greek restaurant, a business with a completely different concept. Creating a pub with a stable clientele took some time. "The care and approach you give to the people is always what makes them want to come back again," says Mentová, who doesn't only take care of the complete running of the restaurant but also enjoys servicing and brewing some beer for the clients herself. She knows her regular visitors by name and likes talking to them.
Soon after setting up the pub Pivnice u bazénu, the two business people unexpectedly managed to expand, establishing the nearby restaurant Pavlovin, where mostly families with kids go due to the close location of the playground in Chodov Park. Then they followed up on this with the traditional pub U Kalendů in the center of Prague, and immediately afterwards they established their first hotel. Although the firm does not run Alpin Avion anymore, they replaced it with a number of other hotels: Ehrlich at Žižkov, Michael in Hodkovičky, and Na Zámečku in Záběhlice. The newest addition to the family is the newly opened hotel Chodov, right above the pub Mentová, which Janeček started four years ago. The newly reconstructed hotel opened at the beginning of March.
Květuše takes care more of the restaurants, and her partner Jiří takes care of the hotels and the newest and larger restaurants – the former Koliba at Roztyly (now Lokai). Květuše does not have much time left over for her hobbies, but whenever she has some, she takes a train, as she enjoys traveling. In the past she practiced gymnastics and trained kids, and she has also traveled all over a big part of the world: Morocco, India, Mexico, Thailand, Egypt, and Brazil. She always disappears into exotic locations for three weeks every year, but with kids it's been a bit harder.
Jiří Janeček is a Czech politician, a member of Parliament of the Czech Republic, a councilor of the capital city Prague, and a businessman in the hotel services field. He is also famous for his successes in, for instance, one of the most difficult motor competitions of the world: the Dakar Rally. Some years ago, he left politics and now deals with hotel and restaurant services.
He has been a businessman since he was eighteen. In the years 1993–2003 he worked as a managing director and a business partner at J+J company, and from 1999–2004 he worked in the same positions at J+J school canteens company, and from 2001–2005 a EUROGURMAN company.
In 2016, he founded Naše pivovary company. "We are doing our best to make beds as good as possible, to cook the tastiest dishes, and to provide the best beer for our clients," says Janeček. His passions are competing, traveling, and brewing beer. As a municipal politician, he took part in several rally competitions with off-road cars – for instance the PAX Rally 2008 in Portugal (with Jiří Wolf in a Toyota Land Cruiser 120) and the Italian Baja 2010 (with Victor Chytka in a Hummer). But surely the biggest success he achieved was at Dakar Rally 2009 in Argentina, the most difficult motor enterprise in the world, when he reached the final point in Buenos Aires in a Toyota on the 51st position.
Considering the difficulty of the competition, it was not clear at all if they could reach the final point. Jiri was just a beginner, and a lawyer from Brno, Victor Chytka, was his navigator. "We registered at the last minute and had to wait to see if we would be added to the starting list. Finally, we lived to see. It was an enormous challenge for us," descripted Janeček his feelings.
He returned to South America (Argentina and Chile) at Dakar Ralley with the same partner and the same car, and a year later he reached the final even in the 41st position. His car with the starting number 373, as the only Czech car at that marathon, managed the hard passage of the desert.
Apart from travelling, he likes bee – he not just tastes it but shoots it in his restaurants and even brews his own. Some years ago he created the microbrewery Malý Janek, which offers several specialty beers based on Janeček's recipes. "Smaller breweries have had drawbacks versus bigger corporate breweries for a long time, and the Malý Janek trademark should help it compete with juggernauts, where the quality of their beer is in last place," adds Janeček.
Jiří Janeček and Květuše Mentová are shining examples of businessmen whose hobbies turned into successful businesses. That's why at all of their establishments you can expect great taste, new experiences, comfort, and quality. You are always welcome!