Ing. Vladislav STANKO, MBA, LL.M.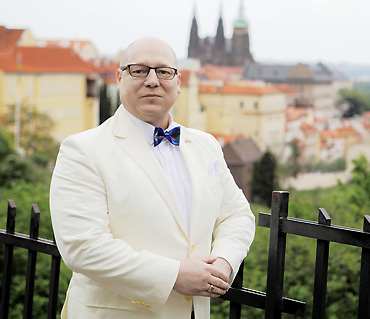 Founder and Managing Director for EU, Serbia and Russia EUROPEAN INSTITUTE OF BUSINESS AND PUBLIC EDUCATION in Prague, Czech Republic
Vladislav Stanko is a patriot, philanthropist, successful entrepreneur and a deputy of the city of Kosice since December 2018. He operates in the Czech Republic, Slovakia and outside of the EU also. He has sponsored many charity projects such as Help the Children of NROS and ČT, Dagmar and Václav Havel Foundation Vision 97, Beauty of Help founded by Miss World 2006 Taťána Gregor Brzobohatá (Kuchařová), Chantal Poullain-Polívková's Archa Chantal, TREBBIA Endowment, Miss World DEAF, Miss Folklore, IPCA World Individual Chess Championship for physically disabled along with other projects.
Vladislav Stanko was born in 1974 in Kosice, the most beautiful city of the Slovak Republic. He is a graduate in Security Management of the University of Žilina, Faculty of Special Engineering. He is also a graduate of IES London with an MBA and LL.M. He is currently taking his Ph.D. in management at the Faculty of Management of the University of Prešov.
Vladislav Stanko is the Managing Director of EUROPEAN INSTITUTE in Prague and Head of the Organizational Unit of the EUROPEAN INSTITUTE in Žilina. He is the Chairman of General Milan Rastislav Štefánik's Club in Prague. He is also a member of the Security Section of the Czech Chamber of Commerce, a member of the Education Section of the Czech Chamber of Commerce and a member of the Czech Management Association ČMA along with other professional chambers.
From December 2018 he is a Member of Košice in the Slovak Republic. He works as a commissioner of education, culture, sport, national minorities, public order, environment, construction, in school councils and as a control body in MRAK, Medical Rescue Association in Košice.
How long has your company been operating on the market?
My first company was established in the Czech Republic by the foundation charter on 28. 10. 2008 at the start of the global economic crisis. The date was chosen intentionally because we are a company that honors the legacy of the 1st Czechoslovak Republic including personalities such as T. G. Masaryk, General M. R. Štefánik, Antonín and Tomáš Baťa, and so on. We organize a celebration of the state at the T.G.M. Museum in Lány and Semafor Theater every year. In eleven years of operating the facility the security and reality has enabled us to establish ourselves on the market and win important clients such as the Czech National Bank, the Ministry of Defense of the Czech Republic, the Ministry of the Interior of the Czech Republic, the National Heritage Institute, the State Castle Sychrov, the MIRO Gallery along with many more.
Since 2012, our activities have focused on education. We managed to build an international EUROPEAN INSTITUTE in Prague specializing in the education of entrepreneurs, managers of commercial entities and representatives of public and state administration through postgraduate management studies. Primarily we focus in the fields of law, economics, marketing, economic, crisis and security management. In addition to educational, advisory and publishing activities, we also provide quality management training in the form of professional courses, proficiency tests and MBA, MPA, MPH and LL.M. We cooperate with the international certification authority IES London. We plan to apply to the Ministry of Education, Youth and Sports for accreditation of higher education institutions and study programs. We are currently operating outside the Czech Republic in the Slovak Republic, the European Union and also in Serbia. We are operating since 2019 in the Russian Federation and we are planning more new branches shortly.
What are the prospects for development for the near future?
Our EUROPEAN INSTITUTE, as a leading Czech educational institution, expanded its organizational unit in Belgrade, Serbia in 2018 and plans to launch another new branch outside of the EU
in Moscow in 2019.
In addition to educational activities, EUROPEAN INSTITUTE has been dedicated to charitable projects for a long time, such as supporting of NROS and ČT – Help the Children, Chantal Poullain-Polívková's Archa Chantal Foundation, Taťána Gregor Brzobohatá's (Kuchařová) Beauty of Help Foundation along with International TREBBIA Awards (its ceremony at Prague Castle is broadcast live every year), and supporting of Czechoslovak relations, expatriates abroad, folklore, sponsorship of the IPCA World Championship handicapped in chess and long-term support of Czech and Slovak chess.
On 28. 10. 2018, the EUROPEAN INSTITUTE organized an international conference in the Slovak House in Prague. This was a reverent act at the tomb of President T. G. Masaryk including a VIP chess game with Grand Master Sergei Movsesian at the T.G.M. Museum in Lány, a celebration for MBA and LL.M. graduated students and traditional celebrations of the national holiday of the independent Czechoslovak Republic. An exclusive program was prepared for Its clients and partners to celebrate the 100th anniversary of the Semafor Theater. A ceremonial performance of "If a Thousand Clarinets" with the legendary master Jiří Suchý and Jitka Molavcová in the lead roles.
I hope that once day I can look back and proudly tell you about my beginnings and successes.
My secret of success is above all a strong will, responsibility, diligence and the ability to lead and motivate people. You must have
a clear vision, mission, and, above all, strategy.
Do you want to be successful?
Study MBA, MPA, MPH and LL.M. for managers and administrators at EUROPEAN INSTITUTE PRAGUE
Get a free tablet, tickets to the Semafor Theater in Prague or to the Aréna Theater in Bratislava. This is a modern online BOOKPORT library with 4 400 professional publications and a raffle draw for a weekend stay in the UK capital London! (The winner of a stay in London will receive a voucher during the ceremony at the Independent Czechoslovak State Day on 28. 10. 2019, in Prague).
Private company managers as well as civil servants can enrich their careers through postgraduate management studies. Graduates receive Master of Business Administration (MBA), Master of Public Administration (MPA), Master of Public Health (MPH) and LL.M. (Master of Laws).
EUROPEAN INSTITUTE OF BUSINESS AND PUBLIC EDUCATION cooperates, in addition to international institutions outside the EU, UK and Israel with leading universities in Czech Republic, the Slovak Republic, and Poland. We publish international certificates in cooperation with IES – the International Education Society London.
MBA, MPA, MPH and LL.M.
120 000 CZK or 4 800 EUR
•

Quality teachers from Czech Republic, Slovak Republic and abroad

•

Increase the qualifications of your managers

•

Processing applications free of charge

•

Possibility to pay for study in installments

•

E-learning and online library included
Sample lessons are available at EUROPEAN INSTITUTE in Prague and CANADIAN INSTITUTE in Bratislava.
Please send your interest in a sample lesson or your written application form to the emails listed below.
For the CR: studijni@european-institute.cz
For the SR: studijne@european-institute.cz
Study Department of the Czech Republic: +420 730 850 858
Study Department of the Slovak Republic: +421 948 850 858
www.european-institute.cz
www.facebook.com/EuropeanInstituteEducation