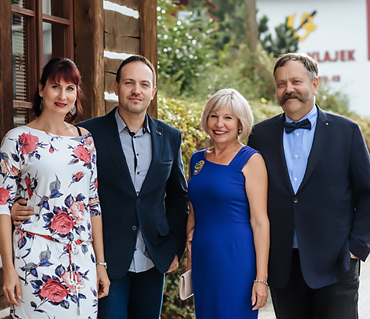 Many of us have admired the beauty of flags and arms. But have you ever thought about who creates such extraordinary works of art? In the Czech Republic, there is a family with a 300 year long tradition in embroidery, who runs a family firm Velebny & Fam s.r.o. lead by Hana and Zdenek Velebny. Zdenek Velebny is a man who, when standing in front of you, reminds you of Archduke Ferdinand of Austria-Este.
This family has a truly historical atmosphere. The family production of embroidered goods and paraments was first mentioned in 1713. The historical record mentions Matej Welebny, tailor and parament-maker from Worle (todays Orel). The tradition continued until 1951, when the company production was taken over by a state-owned organisation Charita, which manufactured all products designed for religious purposes.
The company was recovered a year after the Velvet Revolution (in 1990) thanks to Hana and Zdenek Velebny, who decided to follow on with the rich family tradition.
Despite initial considerable hardship while having to develop their business all by themselves, Hana and Zdenek Velebny established a company which now has 35 employees and a portfolio, which includes not only handmade and machine processed embroidery, but also automated embroidery sewn by machines managed by a computer.
At present, the Velebny family offers all sorts of goods including ceremonial embroidered flags, banners, and standards with original graphic drafts and accessories. They also use large format printing technologies for printed flags, banners etc. The company has broad experience of restoring, conserving and also replicating historical textiles, flags and baldachins. Other areas of expertise of the Velebny family are uniforms, liturgical objects (chasubles, adits, antependiums, baldachins…) and, additionally, commercial embroidery. In addition, they also focus on goods made out of metal and wood such as stands and flagpoles, medals, plaque, insignias and seals.
A large number cities, municipalities and churches are among their clients. For these, and also for families who long for their own coat of arms, the Velebny family established a heraldic office led by Zdenek Velebny himself. Mr. Velebny is the creator of more than 250 municipal symbols approved by the Parliament of the Czech Republic and also a great deal of family and personal coat of arms and other heraldic symbols such as the emblem and the flag of the Bishopric of Brno and the flag of the Archbishopric of Prague.
The company is dealing with orders from all over the world, including Mexico and Oman, and their products have also appeared in Hollywood films.
From the cellar to the restoration of a family tradition
Zdenek Velebny was born in 1957. His grandfather, whose company he was about to restore, died in 1968 when Zdenek was eleven years old. At that time he was not interested in any embroidery whatsoever. He encountered embroidery five years later as denim jackets with handmade embroidered motives were trendy. Zdenek started with simple patterns and later on worked himself through to the most complicated ones using technological methods of plastic embroidery under the supervision of his grandmother, a seamstress. He had been interested in state flags, emblems and history since he was a child and that was only a step away from heraldry (a study of symbols) and his own drafts of symbols, to which he is dedicated up to now.
He met his future wife Hana in 1974 at a veterinary high school in Hradec Kralove. Hana always wanted to work with animals. Nevertheless, she soon had to give up her dream in order to manage the growing family business. Even though they lacked both machinery and skills, the couple began to embroider. They started off with smaller badges for the scouts, soldiers and other organizations, and later on did their first embroidered flags. In the beginning, they rented a basement in a tower block and worked all day long. Today their company embroiders around 120 standards per year in their own completely reconstructed building, built specifically for the purposes of their production. Three years ago, they had to add another building to their offices, for production of more simple flags for the market abroad, largely represented in the United Kingdom.
Zdenek is the leading artist in the company as he makes graphic drafts of flags, standards, banners, chasubles etc. You can meet him in a personal business meeting concerning manufacturing a banner, making a draft for a municipal or a personal coat of arms. Hana, on the other hand, takes care of the business, production and financial matters and deals with foreign business partners. Her hobby is dancing and she and her husband like to attend dancing events.
Successors of a tradition
Hana and Zdenek Velebny have three sons – Frantisek, Ondrej and Josef. The oldest son Frantisek and his wife Lucie joined the family business and they have been working there together for 20 years now. Frantisek is educated in engineering and now dedicates himself to making flagpoles including brass tips, engraving, managing the website, internet marketing, securing the entire administration of the technical facilities of the company (such as sewing machines, computers, the company network…). Lucie studied economics and administration in Pardubice and takes care of the automated part of the production, including the programmers and graphic artists. She assigns production procedures and covers the capacity planning. Lucie and Frantisek cooperate on promoting the company.
Ondrej studied multimedia at the Tomas Bata University in Zlin and the Bezalel Academy of Arts and Design in Israel and took his own path. He became a successful designer in the automotive industry.
The youngest son, Jozka, is finishing a course at the chemical high school in Pardubice and plans to continue studying chemistry at university.
The most prestigious orders:
• State flags for the gun carriages at the funerals of presidents Vaclav Havel and Michal Kovac.
• State flags for the inauguration of the Slovak president, Zuzana Caputova.
• Replicas of the historical army standards for the Castle Guard – used for ceremonies at Prague Castle (for example, the distinction awards).
• Originally designed enthronement clothes for the inauguration of cardinal Dominik Duka. Designed by Zdenek Velebny who used the symbolism of the St. Vitus Cathedral and the twelve Israeli tribes.
• The order of Elizabeth of Bohemia – medal
• Commemorative medal of General Patton, medal of a winged lion at the occasion of the homecoming of the Czechoslovak pilots from the United Kingdom back to Czechoslovakia.
• Embroidered canvas of the Russian Empire emblem used before 1917 on the occasion of the Knight of the Czech heraldry awards for the Academy of Sciences.
• Embroidered replica of the crown chasuble of St. Stephen (from the 11th century). The original piece belongs to the Hungarian national treasure collection.
• Replica of the embroidered standard designed by the reading-singing society Rastislav v Blansku Josef Manes. The design was hand-embroidered and the seamstresses worked on it for 18 months.
• Embroidered curtain with the St. Wolfgang's pilgrimage from Regensburg to Prague motif with dimensions 3,5 cm x 4,5 cm.
• A replica of an embroidered harness of the Lichtenstein's for an exposition of the Castle riding hall in Lednice.

Film orders:
• Embroidered officer epaulettes for the film Valkyrie
• Entire imperial loge in The Illusionist film
• A set of orthodox standards for the Russian produced film, Werewolf
If you are interested in the activities of the Velebny & Fam company, you can find more information on their website – www.velebny.cz and you are welcome to visit Usti nad Orlici, where a tour can be scheduled.