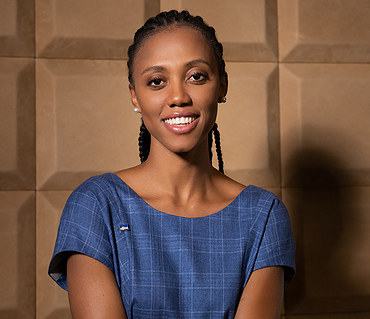 Cape Verde - Business Gateway to Africa
"I believe that quality education is the key to success in Africa," says Mónica Sofia, vice president and founder of the Czech-Cape Verdean Chamber of Commerce, in her interview for STATUSS magazine. If you are looking for a new market or planning to expand your business, don't miss Cape Verde.
Business is about good relations. What are the current relations between the Czech Republic and Cape Verde?
The two countries have been friendly since 1990, and their relation has become stronger since the chamber is taking the economic and diplomatic relation between these two countries very seriously. The positive results and achievements speak for themselves.
In May we organized the historic first Czech-Cape Verdean Business Forum under the patronage of the Ministry of Industry and Trade of the Czech Republic.
We managed to have the highest representatives of the political, business, and diplomatic spheres at one table at the same time discussing business opportunities between the Czech Republic and Cape Verde. The Deputy Prime Ministers of both countries attended the event. The Czech Republic was represented by the Prime Minister, the Minister of Industry and Trade, and Minister of Transport Karel Havlíček, while the Republic of Cape Verde was represented by Deputy Prime Minister and Minister of Finance, Dr. Olavo Correia. In addition, the forum was also attended by ministers, deputies, ambassadors, and prominent businessmen from both countries. Although the online part of the forum was very successful, in the future the chamber is planning to have an online forum that may be even more successful, since I believe that could provide great opportunities to discuss, elaborate further business activities, or even sign business agreements. Czech entrepreneurs also are very concerned about the enormous business potential of Cape Verde, not just as a tourist country destination with beautiful beaches, clear waters, and fresh air, but also as a country with high investments opportunity and an African getaway.
But beaches and the sun could be a good bonus for entrepreneurs, am I right?
Yes. Packing your swimsuit and going surfing after a business meeting sounds good, right? It gives you a unique sensation of relaxation and equilibrium between business and holiday. Good and useful.
As I mentioned, the relationship between the two countries started in the 1990s.
The big difference is that now we have more experience, projects, progress, and energy to continue and cultivate this fruitful diplomatic and economic relation. Due to its orientation towards the EU, Cape Verde is considered to be the gateway to West African Countries. Moreover, Cape Verde is a country with no cultural obstacles or restrictions. We are open to the world. We are friendly and helpful, and we recognize similar values.
There is a high interest in education and progress at Cape Verde, and I try to support it with several other activities in the Czech Republic and in Cape Verde by motivating the young to see every opportunity as a unique value and key to success. According to foreign indexes, Cape Verde is one of the most democratic countries in Africa, and the 33rd most democratic country in the world. There are high levels of security in all of its islands.
International business includes several administrative tasks, new processes, costs…
Exactly, I think that's why the project of the Czech-Cape Verdean Chamber of Commerce is growing so fast. Even though we have been operating for less than a year and a half, we have already helped Czech entrepreneurs to establish five companies. We work as an ideal partner and advisor, and we try to make it easier and quicker for companies to find their place on the Cape Verde market and vice versa, by arranging all documents and license necessities, or even assisting with the language.
In conclusion, our motivation is not only to solve future problems; we are also focused on current problems in Cape Verdean lives. One of them is a water shortage. Together with our partner, we developed a condensator, which condensates the water from the air. The equipment does not produce emissions and is fully adapted to the Cape Verdean environment. Recently we also found a Czech partner that is capable to import high-quality natural and mineral water for a very good price comparing with what we have in Cape Verde. In addition, we are working on several interesting projects in the field of nanotechnology, 3D printing, brewing, and healthy nutrition, production of vitamins, and even construction a new hotel, villa, and residence in the Santa Cruz Santiago Islands.
Are the services provided by the Chamber available to anyone who wants to be one of the first "Czechs in Cape Verde"?
Yes, of course, and not only to Czechs. We are interested in countries such as Slovakia, Poland, and even Hungry. We are also increasing the attractiveness and competitiveness of Cape Verde. We help to establish companies according to Cape Verdean legislation. For VIP partners, we offer the possibility to establish their first company completely free of charge. We provide industrial, import, export, and tourist licenses. There is a great interest in market studies and analyses, which are now offered with a 50% discount. Personally, I see the chamber's greatest contribution in providing expert advice and our assistance in pursuing member's agendas at the institutional level.
How do you personally perceive the potential of the islands?
The country's highest value is our young population, which is very motivated to work and is just looking forward to having the opportunity to do something great. However, the country has quality infrastructure. We have four international airports and seven ports with sufficient capacity to receive long-distance vessels, and we are planning to grow – we are working on it. According to Cape Verde Trade Invest, the value of approved investments in Cape Verde in 2020 was higher than 1.24 billion EUR and will create more than 12 000 jobs. The great news is that the volume of investments in Cape Verde is constantly increasing almost every year. Success takes time and courage.
Česko-kapverdská obchodní komora
Na Příkopě 393/11
Praha 1 – Staré Město
www.ck-obchodnikomora.cz
duarte@ck-obchodnikomora.cz
Be the Light for Others and Help them Receive their Own Light
Do you know what Czechs and Cape Verdeans have in common? Courage and heart to help and accept others. Take a look at the successful journey of the Naděje Cabo Verde foundation, which has been bringing joy and hope into the lives of Cape Verdeans since 2017. About helping Cape Verde and charity activities speaks its founder, the woman from the cover page: entrepreneur, philanthropist, and visionary Mónica Sofia.
HOPE FOR HEALTH
We systematically improve the healthcare facilities in Cape Verdean municipalities that are unable to provide a sustainable medical service. The purchase of an ambulance was one of our investments. Thanks to its mobility, the ambulance can substitute the basic functions of the hospital. The first fully equipped ambulance is already on its way to Cape Verde, and we will donate to the São Nicolau Islands in September 2021. Our objective is to provide one fully equipped ambulance to each municipality in Cape Verde, which means that we need more 21 ambulances to reach our objective. We are inviting all of you to join this useful and beautiful project. More information at www.nadejecv.org.
Our charity in the health sector doesn't start with the Ambulance project. At the beginning of the COVID-19 pandemic, we donated medical supplies and a lung ventilator to Cape Verdean paramedics – a donation of more than 120 000 EUR in materials to combat the pandemic. Naděje Cabo Verde
is also planning to build a hospital on Santiago Island in the next four years. The project is available on our website, and we are looking for philanthropists who want to support it together with Naděje and Cape Verde government.
The objective of the Hospital of Hope project is not to replace any of the current five main hospitals in the country, but to complement them with specialized services that are missing in the country.
BUS PROJECT
Now, Cape Verdean children can frequent school more regularly and learn more comfortably. They no longer have to walk more than 10 kilometers to school on foot because they will be lifted by one of three IVECO buses, which we purchased from the proceeds of our charity evening gala in 2019 in Žofín in Prague.
It is the education and its availability that we see as the biggest potential for the great future of Cape Verde. That is why we have equipped more than 20 youth centers with computers, televisions, and internet connections, proving them full access to new technology and also motivating them to see education as the key to success.
HUMANITARIAN HELP
We mobilized a range of humanitarian help to very poor families in Cape Verde, filling up two large shipping containers with 16 tons of goods. Everything was packed, registered, and declared. It was the second time we have done it, and containers are now on their way to Cape Verde after more than one attempt to send it to Cape Verde. We face many troubles because the Czech Republic does not have ports and does not border the sea, so we had to pay more than
16 000 EUR to send the two containers to Cape Verde.
DREAM HOUSE
Ninety percent of people in Africa live in informal housing, and often lack basic needs such as sanitation, clean water, and food security. Poor living conditions affect entire communities, as crowded living spaces, dirty water, lack of hygiene, and food insecurity contribute to disease transmission. The main objective of the Dream House project is to help at least 100 of the most economically and socially vulnerable families in Cape Vere to repair their undignified homes.
How to support NADĚJE CABO VERDE
Naděje Cabo Verde was founded by Mónica Sofia, who is supporting all projects from her own resources because she believes that having the power to improve the lives of others is a privilege.
More about Mónica Sofia and her work can be found in the "Person" section.
Mónica Sofia thanks all the patrons and supporters of her charity work.
Transparent Account: 5592552329/0800
www.nadejecv.org