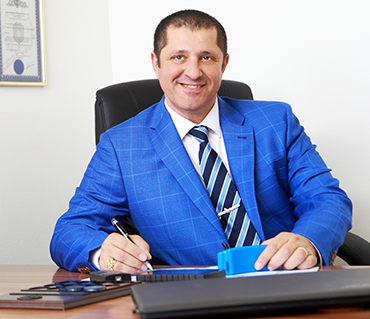 Engineer-inventor, Doctor of Philosophy of Natural Medicine, entrepreneur, president of the international company Diacom Technology, author of patents and research articles, owner of the international trademark Diacom and of many others, president of the American football club Knights of Diacom.
He was the first in Russia to receive the status of "Trade and Exhibition Complex" as a commercial company.
He was given the state award of the Russian Federation "In Commemoration of the 850th Anniversary of Moscow".
Khachatur Davidovich Mkrtchyan – engineer of radio electronics, computer technologies and electronic systems, inventor, author of the development of the cyclotron control system at the Yerevan Institute of Physics named after A. I. Alikhanyan, owner of the patent for "Method of recording oscillations of low-current electromagnetic fields" (can be used for early diagnosis of diseases at the cellular level), and of the patent for "System of controlled modulation of light radiation in the infrared and ultraviolet range through a gas-filled tube designed for therapeutic purposes" (can be an alternative in the treatment
of coronavirus infection, which led to a global pandemic).
"The future cannot be foreseen, but it can be invented because even one person can change history."
Kh. D. Mkrtchyan
Creating the Future
Khachatur Mkrtchyan was born on March 17, 1972, in the small town of Hrazdan (Armenia), into a family of engineers.
From an early age, he showed interest in a wide variety of fields, including physics and chemistry, art, the study of languages, psychology, the culture of various people and the history of religions, as well as astronomy, alternative medicine, the latest technologies, and electronic innovations.
He was often called a child prodigy. As a boy he always tried to learn more than the school could give him. At home, he had his own laboratory, where he used to perform various experiments in the field of physics and chemistry. He was fond of photography, radio electronics and many other things. All of it seemed so interesting and exciting for him.
In 1988–1989, during his studies at the Department of Conversational Genre in the Armconcert studio, Mkrtchyan was trained by the People's Artist of Armenia Rafael Kotanjyan.
He speaks five languages: Russian, Armenian, Czech, Spanish, and English.
Khachatur Mkrtchyan completed studies at several higher education establishments. He graduated from Yerevan Technological College (now a university), with the title of "Programmer – setter of ES EVM". He also studied Jurisprudence at the Institute named after K.V. Rossinsky, in Krasnodar, and "Natural Medicine" and "Bioresonance Medicine" (distance education) at the Open University of Advanced Sciences (OUAS), which allowed him to receive a non-academic title of Doctor of Science.
In 1988–1989, Khachatur participated in the development of control systems for nuclear reactors as part of a research group at the Yerevan Research Institute named after A. I. Alikhanyan.
Khachatur Mkrtchyan has a wealth of experience and a successful career. He was the director of such enterprises as the Kosmos enterprise, which was engaged in the organization of cable television, Slovo i Delo LLC, Loral LLC, Auto Expert Service LLC. He was the chief engineer at Diacom and from 2008 he has been an entrepreneur whose main activity is development, production, maintenance and service
of electronic devices and appliances for home, medicine, and industry, with its own production base.
Mkrtchyan founded the first company for the production of the devices based on his own technology in Russia in 2005. And already in 2008, he began to organize production in the Czech Republic. From then until now, he has lived and worked in Czechia.
Khachatur undertook a difficult journey to reunite with his family, which lasted almost 7 years, as his wife Natalia and children, Christina and David, received constant refusals, for various ridiculous reasons.
The wife steadfastly endured all the hardships of separation and constantly supported her husband in difficult moments. Being an educated person, as she has completed 4 higher education courses, she skillfully supported the family during the long months of being apart from each other, strengthening the faith of her husband and children in the successful outcome of an unanticipated separation. Currently, the family is making plans for the future together, the children receive distance education in a Czech high school.
While studying at the high school, the children are learning the basics of programming and 3D modeling. David successfully mastered the basics of programming languages C, C# and C ++. This helped him to start a project for his father's company and, in the near future, his program is going to be a part of the software products of Diacom Technology.
Christina is fond of 3D modeling and has plans to implement her creations in the company of her father. The children are distinguished by a high level of erudition, extraordinary thinking and, of course, kindness. As they say: educated parents – successful children!
Natalia actively supports her husband in all his developments and innovations, and she is a co-author of some patents. For Khachatur, it is extremely important to receive valuable advice from his wife and hear her opinions. After all, without the support of a loved one and her faith in his success, it would hardly have been possible to reach such heights. This indispensable contribution is important not only for Khachatur's success, but also for the development of Diacom Technology!
According to his friends and colleagues, Khachatur Davidovich is an incredible leader. His main calling is creation for the benefit of humanity, since the most important thing for him is to help others.
Khachatur Mkrtchyan is constantly studying new methods and approaches in production, in order to introduce more innovative solutions. One of his most important qualities as a leader is the ability to evaluate all work-related situations, and factors affecting them, by predicting possible problems. He always analyses information at lightning speed, since it is extremely important for him to capture the essence of everything that is happening inside the organization. When he has limited time to think, he is able to quickly make the right decisions. Diacom Technology's success lies in the leader's ability to multitask. As a leader, Mkrtchyan can carry out several processes simultaneously without negatively affecting his work.
Khachatur Davidovich knows how to connect different people with one common goal. Based on his knowledge of the basics of psychology and interactions with people, he can create a friendly atmosphere within the team. Khachatur Mkrtchyan, as the head of Diacom Technology, is a personal example for all employees, as he himself meets the requirements that he imposes on his team. He has a strict moral code, which has led to the trust and respect of the Diacom Technology team and the business partners.
Khachatur Mkrtchyan is the author of two research articles published in the journal "Science and World".
Mkrtchyan is a holder of patents for his technologies. All products of Diacom Technology are based on his own technologies, some of them have patents, some are still in the process of being registered. However, for more than 16 years, the company's leader has been looking for ways to apply his knowledge and experience for the benefit of humanity. Today, Diacom devices help many people around the world solve problems that affect their lives and health. To ensure that this continues to be the case, the Diacom Technology team is constantly working to create new solutions and improve existing technologies.
Currently, the main office of the company is located in Neratovice, in the Czech Republic.