Lilia Khousnoutdinova a Karel Janeček. It is Time to Love, Create and Win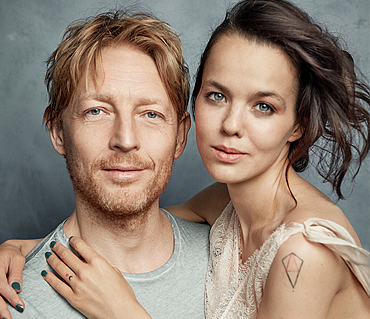 A successful person is someone who feels happiness and fulfillment in their work, in their family, and in their spiritual life, which each of us defines differently. Lilia Khousnoutdinova and Karel Janeček are certainly a successful couple. Their union rests on full trust and mutual support. At the same time, each of them is individual and brilliant in their own way, each does what they love, each has their own projects, ideas and plans, but together they are working on the most successful project of their lives called the family.
Lilia Khousnoutdinova, who studied political science and history at the prestigious university in Oxford, and gender, development and globalization at the London School of Economics and Political Science, is known in the public space as a publicist, initiator of educational programs and campaigns aimed at equal opportunities for women and men, reproduction, the female body and free choice. Lilia founded the Propolis33 charitable foundation to support women's philanthropic and educational initiatives. She is the co-founder of several companies, the online stores Ecstatic and Mamaluna, and the founder of the educational portal Women's Academy. Her love of Bhutan is associated with organizing trips to this country, designing clothes from local fabrics, as well as various projects in the field of regional development and charity. Lilia is one of the founders of the charities Happy Czech Endowment Fund and Friends of Bhutan Society: Czech Republic.
Billionaire Karel Janeček, a mathematician, educator, anti-corruption fighter and author of the D21 voting system – Janeček's method, announced his candidacy for the presidency of the Czech Republic at the beginning of 2022. As a three-year-old boy, Karel was fascinated by mathematics, thanks to which he succeeded in business and became financially independent. He considers money as energy that helps where it makes sense, therefore he financially supports science, education, art, as well as gifted people. For several years now he has not been involved in business, but devotes most of his time to projects that can improve the atmosphere in society and its functioning. Karel Janeček is the Chairman of the Board of Trustees of the Anti-Corruption Foundation, the charitable foundation the Lilie & Karla Janečkových Endowment Fund, the founder of the Neuron Foundation, and the founder and researcher of the Science 21 Foundation.
Karel Janeček and Lilia Khousnoutdinova got married on 21. 12. 2021 at 12:21 in the Church of St. Nicholas in Prague. They decided to legitimize their long-term relationship and raise their children (two-year-old daughter Isabelle and newborn son Karel Georg) in a strong traditional family – the basis for the successful development of society.


Lilia Khousnoutdinova
How did you meet Karel?
We first met at a conference of the Happy Czech Endowment Fund foundation, where I am a co-founder and Karel participated as a speaker. The conference was held at the Lucerna Palace. Since this is an annual event, exactly one year later we met again, but this time we actually met and talked.
Was it love at first sight?
Probably not. Then an interesting situation happened: at the end of the conference, a monk from Bhutan spoke, he talked about his center, and then decided to teach those present how to properly hug the Buddhist way (heart on heart, not with the right, but with the left shoulder forward, inhale and exhale together so that two come into a state of harmony). The monk told everyone to stand up, turn to the one closest to them, and hug. The closest was Karel and we had to hug. So we practiced the proper Buddhist hugs, then we went to the after-party, where everything was very beautiful, the sun was setting, and the atmosphere was romantic, and there we exchanged phone numbers.
The next time we met was at a concert of the girl group Vesna, where I opened the concert with a dance with mythological symbols. I appeared in the role of the Slavic Libuše. Karel was invited as an honored guest and patron of the arts. And then a spark ran between us. Almost 5 years have passed since then.
Your wedding recently took place, the ceremony took place in the Hussite church. It is known that you do not belong to this faith, why was such a decision made?
We thought about this for a very long time. There was no question of holding the ceremony in a Catholic Church, since there are many points in this religion with which I do not agree. The Hussite church is absolutely Czech, so this religion is close to Karel. We even came to the conclusion that we want to baptize our son among the Hussites. We were married by the ceremonialist Martina Viktorie Kopecká, who has a great talent for performing very beautiful rituals, with deep meaning and great dignity. I felt very comfortable because it was close to what we do in our ceremonies, a slightly different context, but still very close.
You, too, are a ceremonialist. What does it mean?
I studied this for 3 years in England, passed the course and was awarded this title. This is a profession that has nothing to do with the church, as a ceremonialist is a person who conducts ceremonies without religious dogmas, helps to adequately celebrate important life events (weddings, divorces, funerals, the birth of a child, etc.). And most importantly, this is true for the Czech Republic which is an atheistic country, but, nevertheless, the people here are quite spiritual, although they do not belong to any church. Therefore, the profession of ceremonialist is a huge success.
Lilia, you are a talented, creative person, a beautiful and stylish woman, a caring mother, as well as an author and coordinator of many projects. How do you manage to do everything?
When you do what you love, and your loved ones support you, when you have a professional team of like-minded people around you, it is not so difficult. I love what I do. Since childhood, I have been interested in women's destiny, childbirth, women's rights, why women are paid less, why in some countries women are not allowed to marry whom they want, etc. These topics are very close to me, and therefore all my projects and initiatives are connected specifically with women's issues.
The topic of motherhood is very close to you, you are the mother of three children. How do you feel about large families?
Having a child is not heroism. It is important to give birth to children when a woman is ready for it, when it is a conscious step, when she is able to give something to a child. If our women had decent support from the state, they could definitely have more children. Now this is not happening, so the situation needs to be radically changed. What I try to do is what my projects are about.
Do you implement projects only in the Czech Republic?
No, there are projects in Bhutan, which I love very much. We sponsored the reconstruction of one of the oldest temples – a nunnery in Bhutan. During one of the earthquakes, millennial prayer shrines were almost completely destroyed. But now, thanks to our project, they are as good as new. We also provided charitable assistance to the monastery, giving blankets, mattresses, radiators, etc.
Do you and Karel have common projects?
No, we have very different interests. The only common thing is that I joined his foundation, Assistance Foundation, which, among other things, organized the work of the Znesnáze21 platform, where about 100 million CZK were distributed in a year. I help there with projects on women's topics, and I am also a patron of most of the charitable collections, for example, Matky samoživitelky, etc.
The charity Karel Janeček Foundation was also founded, which is dedicated to supporting kindness by rewarding and popularizing people who selflessly help someone or something. There is huge support in the field of education, and new educational methods are being developed. There is an incubator that helps charity projects get on their feet. These are the projects I joined. Karel founded them, but now his involvement in them is rather limited and they have their own dynamics. Karel generously supports the charity, but he does not appear in these projects, whereas on the contrary, I like to implement projects, it is interesting and very important for me.
In order for the relationship between a woman and a man to be long-term and healthy and develop, does this need to be learned or is it a talent that is given to a woman by nature?
Of course, this needs to be learned. Even at school, you need to teach, for example, non-conflict communication, tell you what to do when you feel aggression, when a conflict occurs, how to solve it, how to find a compromise, how to make the right decisions. Now teaching these basic skills is almost absent in school curricula. We need to teach our kids about health.
What are your plans for the near future?
I am preparing a new collection of jewelry and dresses, and I am also preparing many new books for publication. Karel has the presidential candidacy ahead.
If Karel Janeček becomes president, will you enjoy the role of the first lady?
I believe that the activities that I am currently engaged in would be very suitable for the first lady: charity, women's issues, etc. I would consider this as opening up new opportunities, but in a different spectrum.