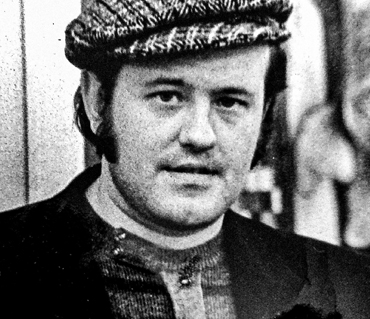 Painter, graphic designer, and illustrator (1944–2015). Born in Prague's Žižkov area, this artist based his artwork on three pillars: excellently mastered creative art, art history education and great talent.
"The topics of his artwork are often influenced by the theater environment and evoke questions about the hidden meanings of difficult life situations. His paintings show how actively he approached creation and shapes with an emphasis on the functional use of colors. The magic of faces and stories of the past often emerge from his artwork, a past in which he could not participate but which he honored and admired. Let's notice figures putting on and putting off their masks in the air of fantasy and show their real faces. Through these figures we can reach the deeper meaning of this painter's artwork," said the then Director of Prague City Gallery, Jaroslav Fatka, in 1973.
Jiří Školník (27. 5. 1944 – 10. 11. 2015) graduated from the High School of Applied Arts with Professor. R. Pípal and Professor. A. Vítek in 1963, followed by private consultations with Professor. F. Muzika at the University of Applied Arts.
Starting his career at the youthful age of 22, between 1966 and 1975 he worked as a decoration painter and graphic designer at the Karlín Musical Theater, the S. K. Neumann Theater and most notably the Municipal Theaters of Prague where, among others, F. Tröst, A. Wenig, Z. Seydl, M. Medek, L. Fára and others realized their stage designs.
In 1976–1982 he progressed his profession further as a magazine artist of 100+1 Foreign Attractions and subsequently from 1982 to 1986 as the art editor of Our Troops Publishing House (Naše Vojsko).
From 1986 he worked as a freelance painter, graphic designer, and illustrator. He collaborated in the field of illustration and typographic editing with major publishers such as: Czechoslovak Writer, Odeon, Orbis, and others. He also created numerous illustrations, from children's books to a limited edition of the Collection of Short Stories Night (Noc) by the Italian playwright Luigi Pirandello, to countless illustrations for leading journals, magazines, and a number of posters for the Central Film Rental and Prague City Gallery.
He started his exhibition activities in 1973 with a solo exhibition in the gallery in Jilská street in Prague. Since then, Jiří Školník has been represented at numerous solo and group exhibitions. He participated in the BIB Biennial of Illustrations in 1974, an exhibition of Czechoslovakian Applied arts in the gallery of J. Frágner and others.
His works are represented in the collections of the Museum of Applied Arts in Prague and with private collectors.
Currently there is a sales exhibition of chosen limited and unlimited reproductions in the premises of Prague's Illusion Art Museum on Old Town Square 24.