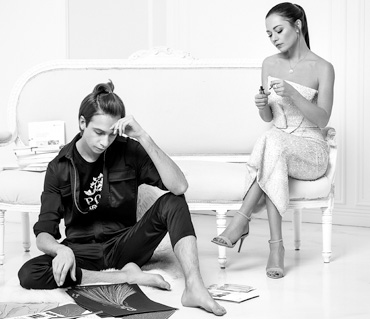 Nikol and Jakub. Two siblings who have influenced fashion in the Czech Republic. Designers working with clients who appreciate luxury and uniqueness.
he PONER brand was established in 2015, and the beginnings were tough. At first, they had nothing. And then, within an unbelievably short time, their name became a phenomenon; to wear one of their dresses at an event is now an honor. They appear at the most prestigious social events, and even at official state events. One of their most recent orders was an inauguration dress for the first lady and her daughter.
They use only the most exclusive fabrics; hand embroidered laces are complemented by crystal stones from the Preciosa company. Their models are synonymous with luxury. Women's dresses for special occasions are the most dominant part of their work, and thanks to the painstakingly meticulous handwork they are a hallmark of exceptionality. The rest of their work includes, among other things, various accessories such as brooches, underwear, or suspenders or their iconic shoes, "ponerky".
They have recently moved their atelier right into the very heart of Prague. You can now find them right at the beginning of the famous fashion street Pařížská. When you come to Prague, do not forget to visit their atelier located in this century-old, historical, and ever-luxurious building. Just knock on the door…
In fact, Nikol and Jakub are known in the Czech Republic for meeting their clients in their atelier. They firmly believe that a personal approach is exactly what each designer should invest in their customers.