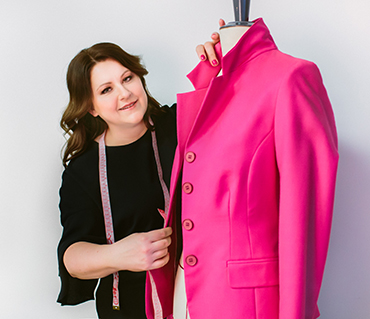 Zakladatelka, výkonná ředitelka a hlavní návrhářka Ivana Rosova Fashion Group
How long has your company been operating in the market?
Our fashion brand has been available in the Czech and international markets since 2015, and specializes in luxury clothing for women in business. We dress successful women from morning meetings
to evening gala events.
We present two collections annually, in sizes 34–50. The garments are designed in Czechia and manufactured in Slovakia, in limited quantities. The exceptional fabrics, such as English merino wool and cashmere, Italian silk, French bouclé and taffeta, and natural viscose, are produced exclusively for the Ivana Rosova Fashion Group by prominent textile studios.
In 2016, we opened two showrooms in Prague and Bratislava, followed by an e-shop at www.ivanarosova.com, for better accessibility for both local and international clients.
What are your prospects for development in the near future?
We are planning an expansion into international markets, and we have also decided to add a new line with sizes 44 plus that is currently of big interest to our clients.
I hope one day to open my own boutiques in metropolises like London, Paris and New York.
Your secret of success?
I am a very positive person, hence neither any difficulty nor anything else will discourage me when I have a new idea. Therefore, I have been following my dream for a number of years already. At first, it was Fashion Design studies in Brussels and Paris, and then an American university for an Executive MBA degree in Dubai. 20 years spent overseas, 6 languages, a career in multinational companies, and then back to Prague where I have established my own fashion brand, which I am currently building for entry to the global markets.
For private consultations and boutique booking, please contact:
info@ivanarosova.com
Tel.:  +420 603 929 881
www.ivanarosova.com