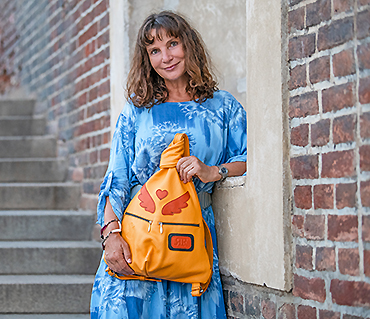 Zakladatelka značky Radka Fashion
How long has your company been operating on the market?
I founded the company on July 1st, 2015 in Nuremberg. My main activity is sewing leather backpacks, bags and accessories, which we sew in my studio in Prague.
As I like to travel, I took my bags to many countries in Europe, North and Central America. You can find them in boutiques in Canada, the USA, Japan, Holland, Austria, Germany and the Czech Republic. During my travels, I had the opportunity to make an interview on stage in front of 2 500 people with the Hollywood Star Charlie Sheen in Los Angeles (the entire interview can be viewed on my YouTube channel). The owners of my bags include, among others, celebrities like Charlie Sheen, Kim Kiyosaki or Václav Klaus Jr.
Investing in real estate and coaching are the secondary activities of my company.
What are your prospects for development for in the near future?
In October 2022, I will participate in the International Fashion Week Paris. On the Champs-Élysées will be a fashion show with my backpacks, handbags and briefcases.
The week after I will be presenting my design work at Liverpool Fashion Week and in the second half of October, I will be back in Paris for the two-day Premier World Congress on Women Leadership and Wellness Expo, where I am a speaker and an exhibitor.
I hope to one day to travel around the globe and to meet Charlie Sheen again.
Your secret of success?
The secret to my success is determination, persistence, the belief that I can do it… I always tell myself that it will work out, and, last but not least, I try all the possibilities until the desired result is achieved.