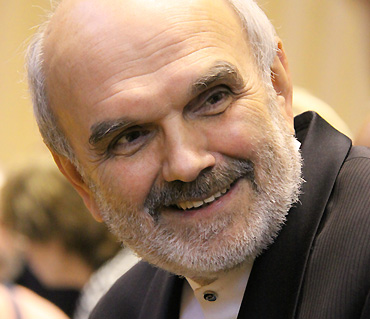 Composer, bandleader, percussionist

Age 73
Sign Cancer
Place of Birth Prague
Josef is the youngest son of composer and bandleader Jaromír Vejvoda (1902–1988), the songwriter of the world-famous "Beer Barrel" polka.
He graduated from the Prague Conservatory in 1970.
In 1967, he won first place in playing percussion instruments in the state competition of jazz musicians. He won numerous All Star Band jazz surveys. He played with the leading jazz musicians and ensembles in the Czech Republic and abroad.
In 1998, he founded, together with pianist Kryštof Marek and bassist Ondřej Štajnochr, a jazz trio playing their own original repertoire written by all the members and influenced by a number of elements from jazz and classical music. Recently, Josef Vejvoda Trio has taken part in projects with a chamber or symphonic orchestra.
Josef Vejvoda has written a number of vocal compositions, three melodramas, and many chamber compositions. In 2002, he composed the "Like Old Times" polka, which he devoted to his father on his birthday. The premiere at the Prague Spring festival was conducted by Libor Pešek.
The same year, Josef Vejvoda got a unique chance to conduct the music of the Band of the Castle Guards and the Police of the Czech Republic to a sold-out crowd at Carnegie Hall in New York.
Vejvoda's compositions have been played by famous orchestras: Pardubice Philharmonic, Hradec Králové Philharmonic, Brno Philharmonic, the North Czech Philharmonic Teplice, Janáček Philharmonic Ostrava, the Suk Chamber Orchestra, the Orchestra Atlantis, the Band of the Castle Guards and the Police of the Czech Republic, the Czech Army Central Band, and such soloists as Pavel Šporcl, Josef Suk, professor Jiří Hlaváč, violist Jitka Hosprová, harpist Kateřina Englichová, clarinetist Milan Řeřich, and others. Josef Vejvoda returned to the long-term musician family tradition after his father's death. He renewed Vejvoda's band and Salon orchestra with which he got his initial start at concerts, on TV in the Czech Republic, and abroad.
Together with these ensembles, he recorded sixteen albums. In 2005, he got a platinum record from Supraphon for his album "Beer Barrel," and in 2006 he won in the brass hit parade of the Czech Radio 2 – Prague with his composition "By Beer or By Wine."
In September 2018 he premiered the Josef Vejvoda JAZZTET, a project in which the bandleader remembers his meetings with jazz legends like Karel Velebný, Laco Deczi, Karel Růžička, Jiří Stivín, Emil Viklický, Tony Scott, Benny Bailey, etc.
To get something you should be hard-working and patient.
I belong among people who enjoy their lives.
I dislike intrigues and backdoor dealings.
I am grateful to my parents and my family for everything I have in my life.
We all must compromise and be tolerant and modest.
To live means to be happy because of the small things.
I sometimes enjoy switching off and feeling happy…
I hope to someday be able to hand over a 150-year musician tradition.
It's important to remember that life goes on, even when unpleasant things sometimes happen.
You should always try to solve unpleasant situations in a quiet way, with a sense and balance.
One should have so much money so as to not suffer.
I love Prague because I think it's one of the most beautiful cities in the world.
The best specialist is the one who gets better in their field all the time and gets recognition from their peers.
Now I am worried by the fact that lies are very often used to solve different conflicts.
The secret of my success… I won't speak about success, I enjoy every small thing that comes my way.