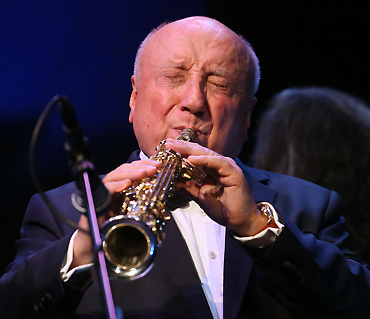 Music Legend. Multi-instrumentalist, composer and conductor
Age 75
Sign Gemini
Place of birth Zlín
For decades, Felix Slováček has been one of the most famous Czech musicians. This brilliant multi-instrumentalist applies his talents to jazz as well as popular music. In addition, he is also an interpreter of the classical clarinet repertoire. He has released a number of his own albums and made hundreds of solo television appearances. He has won many prizes in international competitions as a soloist and has also demonstrated his musical versatility as a composer and conductor. He was awarded the "Medal of Merit" by President Miloš Zeman.
Felix Slováček's real first name is Antonín – a classmate gave him his nickname because he supposedly resembled Felix the Cat. The famous musician has devoted himself to music since childhood. His parents wanted their son to play the piano or the violin, but the boy was fascinated by the tones of the clarinet and saxophone.
He studied clarinet, piano, contrabass, drums and conducting at the Conservatory in Kroměříž. Later, he continued his studies at the Janáček Academy of Music and Performing Arts in Brno. Under the guidance of Professor Vladimír Říha, one of our finest clarinetists, he perfected his clarinet playing.
"At that time, I used to play every evening in Brno bars with amazing bands. I played all types of music – it was an excellent school. My first professional bandleader was Mirko Foret. Later, I met other giants such as Gustav Brom, Karel Vlach and of course Ladislav Štaidl."
In 1968, after serving in the Army, where he was in the Military Art Ensemble, Slováček joined the Karel Vlach Orchestra. "When I first joined the orchestra, the sensation of the reverberation and amazing sound of the entire band was so strong that I welled up with tears." Then he performed in the Gustav Brom Orchestra. He simultaneously played in Reduta and Viola, as well as at jazz evenings in the Music Theatre.
His engagement with the Ladislav Štaidl Orchestra (1969–1986) opened the pathway to success for Felix Slováček. Being a member of the orchestra which accompanied the most successful Czech singer, Karel Gott, meant great opportunities for Slováček, with numerous recordings and international tours. He expanded his art by playing the saxophone, for which instrument he is best known to the public. As the most distinctive instrumentalist of the orchestra, he often had the opportunity of solo performances within Gott's concerts, making him more visible in the Czech Republic as well as in many other countries.
In addition to Štaidl's Orchestra, Felix started to perform as a soloist and in other groups. In 1983, he became the conductor of the Dance and Jazz Orchestra of Czechoslovak Radio. In 1986, after leaving Štaidl's Orchestra, he accepted this employment full-time. The Czechoslovak Radio Orchestra, which adopted the name 'Big Band Radio Praha' in 1989, was transformed into the 'Felix Slováček Big Band' over time – the band of which he is still Chief Conductor and in which he of course continues as a soloist.
In addition to his own Big Band, he has performed with numerous other orchestras, often in Germany (Hessian Radio Symphony Orchestra, Dresden Philharmonic, WDR Big Band Köln), as well as in other countries. He has collaborated, among others, with the European Community Chamber Orchestra, Slovak Philharmonic Orchestra, RIAS Radio Big Band, Big Band Radio Copenhagen, and others.
"I would like to stand on the same stage again with James Morrison, the superb Australian multi-instrumentalist. We call him 'Ufon' (the U.F.O. man) in the band, because it is incredible what he can play on the trumpet, trombone, saxophone and even the piano."
Felix Slováček is known to the public as a virtuoso on saxophone and clarinet, but he also masters several other instruments. He is not restricted to only one genre and, by his interpretation, presents his exquisite talents in both popular and classical music. He also devotes himself to jazz, folk and musical theatre. Slováček has also established himself in various genres as a composer. Amongst others, he composed the song Snad nám to vyjde ("Happily Ever After") sung by Iveta Bartošová and Petr Sepéši. He has also composed several instrumental pieces.
Felix Slováček has recorded more than 500 titles and sold nearly two million albums. He already released his first records in the 1970s (Felix Slováček LPs I to IV), while his saxophone and clarinet solos significantly enhance Karel Gott's songs of that period. In the 1990s, his discography expanded significantly. In 2008, the evocative "Made in Czecho Slováček" 2CD was released, introducing Felix as a national and international musical performer of pop, folk songs, film themes, musicals and "less serious" classical music. In 2011, Felix Slováček released the "Salto Solo" album – an instrumental version of local and foreign compositions recorded for the radio "A" Studio in Karlín. He says about this album that the compositions carry a message of peace.
Since 2011, Felix Slováček has been lecturing at the Music and Dance Faculty of the Academy of Performing Arts in Prague and states that his students there are great. And to avoid inactivity, he travels around the Czech Republic with his own show, "Felixír". "I play and speak about music, my parents, Moravia, just about everything I love."
An excellent musician, composer and conductor, Felix Slováček celebrated his 75th birthday in Hybernia. The crowded hall of fans came to congratulate him in addition to a number of friends and colleagues from the industry led by Karel Vágner, Jiří Krampol and Alexander Hemala. Of course, the most interesting was on the stage, where for example, Leona Machálková, Helena Vondráčková, Jitka Zelenková, Jan Smigmator, Láďa Kerndl, Dasha and both Slováček's children Anička and Felix took part in singing and congratulations.
For the past five years, Felix Slováček has been living alongside talented artist Lucie Gelemová.
In order to gain something, you must focus totally and pursue the matter like a bulldog. Try over and over again and, if you fail, think about the relevant problem even harder. It is like practicing an etude long enough until it is absolutely faultless, and in the fastest tempo. Only then can one proceed to the next stage.
I belong among those people who have the strong will to achieve something. This is certainly not easy, but only through this characteristic can one succeed.
I don't like it when someone arrives late for an appointment. This is a terrible vice. I manage to arrive in time even if it means waiting for a little. In Germany, I think they always appreciated my punctuality. It should be the norm for everybody.
For everything in my life, I am grateful to my parents who did not have it easy under totalitarianism, yet they got together the finances for my studies.
Sometimes we all must do something which does not suit us or is something we are opposed to. However, as the saying is, what doesn't kill you, makes you stronger!
To live means to love. To love one's family, friends, close acquaintances, colleagues, the people around one, one's work, one's hobbies, good food, wine, as well as oneself.
I like romance, art, sport (tennis, golf), beautiful women
and their perfume, my daughter's performances in movie clips (direction, screenplay, production) etc.
I hope one day to be able to look back with a clear conscience on my life and, as it is said in the classics: "When Death knocks at my door, I will pass it a cup filled to the brim with my life."
It is important to remember that trees do not grow up to sky and, just as one rises higher up the steps, so can one fall down to the very bottom…
Always strive to treat others as you would want them to treat you.
One must have as much money as to be able to survive and bring joy to oneself as well as to others.
I like Prague because it is the most beautiful city in the world.
The best expert is one who is educated, sound and yet also listens to others.
Now I am worried that interpersonal relationships are at an absolute zero, if not already below it. Human life seems to have lost its worth. Drugs, relations, conflict, violence, fraud, deceit – and all these without any punishment, sometimes with the closed eyes of the police. We must return to what is called human dignity.
My secret of success is a smile, the joy of work and life.