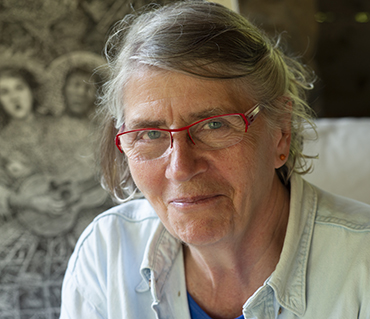 The camerawoman, director and translator.
Jessica Horvathova, was born in Belgrade in Serbia on 22nd July 1946. Jessica is a very active, hardworking and optimistic woman who believes that in order to achieve something, you have to work hard - and who doesn't approve of living in vain. She dedicates herself to many activities including holding the post of deputy chairman at KINOS, an organization uniting those working in the film industry, serving as a vice president of the Confederation of art and culture and leading a charitable trust called EUFORIE EUROPE. She studied filming at FAMU film academy from where she graduated in 1970, and continued to work as a camerawoman till 1975. Mrs. Horvathova also worked as a translator from 1975 till 1986 when she came back to the film industry. This time as an assistant-director at the Barrandov Film Studio. In the 90s she founded her own casting studio CINE-JESSY, where her career as a casting-director kicked off. She participated in the making of more than 250 films, mostly foreign. She had an opportunity to cooperate with both Czech leading filmmakers such as Jiri Krejcik, Ivan Balada, Vera Chytilova, Juraj Herz, and Petr Vaclav as well as with foreign ones such as Roger Vadim, Emir Kusturica, Terry Gilliam, Brian Helgeland, with the brothers Alan and Albert Hughes and the brothers Paolo and Vittorio Taviani. She also contributed to the discovery of many new talented actors. In her own opinion, her biggest successes are her children: her son,
the actor and director Mikulas Kren, and her daughter, the textile designer Marianna Krenova, and the fact that she made a feature film (1971). However, in her own words:
"I don't know whether I'm successful or not, however, success is, in my opinion, a matter of decision."
In order to gain something, you must… work hard.
I belong among those people who… are optimistic.
I don't like it when… people live in vain.
For everything in my life, I am grateful to… a decision to choose who I listen to.
Sometimes we all must… know how to give in.
To live means… to live in the present, think about the future and honor the past.
I like… the sea – it is the best invention since the creation of the world.
I hope one day I will be able to… say to myself: "I've been doing it right!"
It is important to remember that… people are not infallible.
Always strive to… do your best.
One must have enough money as to be able to… work in peace and raise children.
I like (don't like) Prague because… it has its own secrets and beautiful nooks.
I want to change the philosophy of… indifference.
The best expert is one who… never ceases to search.
Now I am worried about… the fact that the truth ceases to be the truth.
My secret of success is… It is a matter of decision.