Anife Ismet Vyskočilová Hassan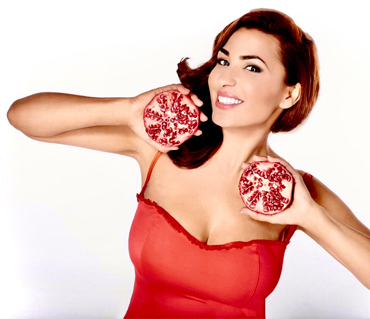 Actress, businesswoman and cafe owner. Age 47. Sign Pisces. Place of birth Senovo, Bulgaria
An exotic dancer, presenter and actress of Turkish origin, she once traveled from her native country Bulgaria to Germany, but found herself and her little son in Czechoslovakia, where she has settled.
Anife graduated in Biotechnology.
She founded the first Oriental dance school in the Czech Republic in 1996 and subsequently opened three more.
Since 1997, she has been playing in the theatre alongside her ex-husband Ivan Vyskočil, for example, the plays Dance between the Eggs, Oscar, I do not Look on the Black Side, Girl's War, etc.
She has appeared in more than 100 entertainment shows for all Czech television. She had her own show "Bang!" on TV Nova, her own show on radio F1 and the show "Women on the Way" on TV Prima.
Anife has a business with building materials, is the distributor of the plastering company Mantofly with the exclusive representative rights for the Czech Republic and Slovakia.
She had a café, Anicafe, in the center of Prague and today she runs her café and patisserie U Anife at Stodola Herink.
This talented woman wrote a book about traveling the world and gourmet experiences – "It's me, Anife".
One of Anife's hobbies is painting, which she has been doing since she was a little girl. She uses the combined technique of drawing with ink, pencil and 24-carat gold plating. She has not exhibited her paintings yet, but she is happy to sell them exclusively and donate them to charity auctions from time to time.
In order to gain something, you must work hard and devote yourself to the cause, but I never walk over corpses, that is beneath me.
I belong among those people who appreciate everything around them, no matter if good or bad, because every single thing moves us somewhere.
I hate injustice and slander. As the saying goes, "Before you judge me, put yourselves in my shoes and try to live my life. If you can achieve what I did, maybe you'll understand how strong I am."
For everything in my life, I am grateful to my mother, who gave birth to me, to my father, who gave me a strong foundation in life, to my grandmother for her wisdom, to my children who taught me what patience and care are, to my life partners, who taught me what interpersonal relationships are, and finally to myself – I am still on Earth only because of my desire to enjoy everything and then to leave in peace as an honest person.
Sometimes, we all must put ourselves in somebody else's shoes to understand him or her.
To live means to be happy, to be healthy and to breathe.
We only live once, so let's live a full life without worrying about the 'what ifs'!
I like so many things, too many to list, but most of all
I love my little granddaughter Laura-Vivienne.
I hope I can preserve my culture and nature and pass it on
to my grandchildren, even if I will live at the North or South Pole. And I also hope that this difficult time for the whole world will be over soon and we will live in peace.
It is important to remember that nothing is forever.
Always strive to do things you like, that make you happy and ennoble your soul.
One must have as much money as to be able to live easily.
I love Prague because it is a mystical and beautiful city.
I've lived here for half of my life.
The best specialist is the one who is the best in his field.
Now I am worried that I cannot meet with friends, work freely and, most importantly, breathe clean air (I must wear a facemask).
The secret of my success is sincerity and honesty in everything, in both my professional and personal life.