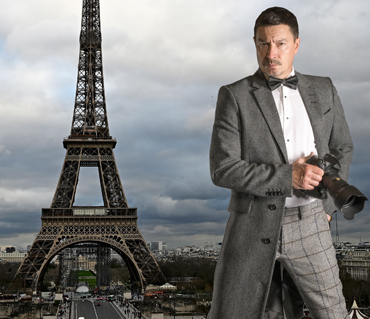 Fashion Photographer, Age 56, Sign Aries, Born Russia
Artur Kulikov, who is known to most of the people as the photographer nicknamed Arthur Koff, had nothing in common with professional photography nor even fashion until 2013 when he hit the world of designers, models and runways almost by chance, and he is there to this day. He could not even imagine that his first shoots, taken during a street fashion show in Prague, would appeal to the audience and participants so much that it would change his entire life. His new career developed so rapidly, that six months later he received his first accreditation for New York Fashion Week.
Together with his daughter, a talented designer and an artist, Arthur Koff opened the Information Agency 4TO4U (Photo for You), which supplies publishing companies around the world with the photos and videos taken at cultural and sports events. Koff is the official photographer of Fashion Weeks in New York, London, Milan, Paris, Dubai, the Czech Republic, Slovakia and Russia. His photos have been published in Vogue, Bazaar, Cosmopolitan, Elle, GQ, Forbes, Hello, Fashion TV and 30 other mass media. Being at world fashion platforms for six years, Koff has shot collections of almost all the famous brands, such as Dior, Chanel, McQueen, D&G, Fendi, Versace, Armani – there are more than 100 designers and about 3 500 collections in total, with whom he has worked. Almost all the popular top models of the world, such as Naomi Campbell, Kendall Jenner, Cara Delevingne, Bella and Gigi Hadid, Kaia Gerber, Emily Ratajkowski, Irina Shayk, Adriana Lima, Karlie Kloss, Taylor Hill, have worked in front of his camera, – one cannot list them all!
Arthur has 10 suitcases for different countries and events, several cameras and lenses for all occasions, 100 terabytes of archives with photographs and a small studio in a historic house near Prague, where he lives with part of his family. All the rest of his relatives live in Russia, Germany, Singapore, Nigeria, Egypt, Turkey and Israel.
When he has free time on his hands, he can be seen on the tennis court, on a snowboard or riding a bike.
Many people are green with envy, thinking that he is only busy with hanging out at parties, drinking buckets of champagne and having fun with models. He says in response that he gets tired fast at parties and therefore seldom goes to them and does not like champagne. But he
really "spends" almost every night with models, sorting out and retouching their photos in his studio.
In order to gain something, you must understand what you want. Then you need to think about whether you really need it, and about its consequences. If you are under 30, put your back into it and go ahead; if you are less than 50, then think a great deal and do it; if you are older, measure the cost, evaluate, doubt, do not care about anything and just do it!
I belong among those people who try to live in the moment. You have no power to change the past, and you are not able
to dip into the future either.
I don't like it when close people leave each other, sometimes for a day, or even forever.
For many things in my life, I am grateful to my mother. She gave birth to me, brought me up, taught me and then set me adrift. For all the rest, I thank my wife, who has loved, understood and forgiven me for so many years.
Sometimes we all have to bend over backwards to the state, the bosses, the seller, the undertaker… Though sometimes you want to say: "Go to Hell all of you!" The state will get angry, the boss will give you the sack, the seller will take the pet, the undertaker will chuckle at it…
To live means to get up in the morning, breathe haze, be eager to do something good, get into some shit, somehow transform the shit into something sweet and highly desirable, and then go to sleep soundly, hugging your beloved body tight.
I love delicious food, stylish clothes, beautiful women, good wine, a stormy ocean and the warmth of my house.
One day, I hope to shoot my granddaughter for the cover of Vogue.
It is important to remember that each day will never happen again.
Always strive for the best, the worst things will happen to you if your aspiration runs out.
One must have as much money as to be able to help his/her parents and children.
I like Prague because it is our safe, quiet and serene home.
The best expert is one who has the power to capture dreams.
Now I am worried that there are not many things to worry about.
The secret of my success is in the fact that you do not need to do the best, just to do it well.