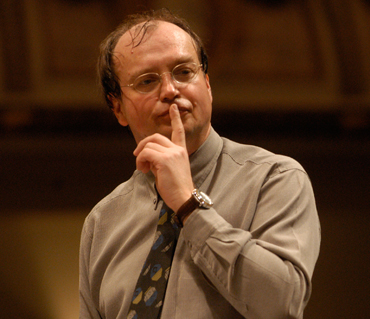 Conductor. Age: 60. Sign: Taurusю Place of birth: Jablonec nad Nisou.
Leoš Svárovský studied the flute at the Prague Conservatoire. He also studied conducting at the Academy of Music in Prague, as the last student of the renowned Professor Václav Neumann.
Since 2000, he has been teaching conducting at the Academy of Performing Arts in Prague. Leoš Svárovský has also advanced in his teaching career, being Docent (Associate Professor) at the Academy of Performing Arts in Prague since October 2012.
His brief history: Chief Conductor of the Janáček Philharmonic, Brno Philharmonic, GMD at the State Opera Prague, tour with the Czech Philharmonic in the USA and with the Slovak Philharmonic in Japan.
Currently, Leoš Svárovský is Chief Conductor of the Aichi Central Symphony Orchestra Nagoya and Principal Guest Conductor of the Slovak Philharmonic. He is also a frequent guest conductor of many Czech orchestras – the Prague Radio Symphony Orchestra, Prague Philharmonia, etc.
Leoš Svárovský has been a guest at many important music festivals in the Czech Republic (Smetana's Litomyšl, Prague Spring, Moravian Autumn, Easter Festival of Sacred Music, Janáček May, Prague Autumn, Emma Destinn Music Festival) as well as abroad (Festspiele Europäische Wochen Passau, George Enescu Festival Bucharest, Colorado Music Festival, Settimane Musicali di Ascona, Musica Sacra Nürnberg, Dias da Musica in Belém).
He conducted the world premiere of Czech composer Slavomír Hořínka's Violin Concerto with Sophia Jaffé and the Czech Philharmonic at the Brno Moravian Autumn Festival. He was re-invited to the Festspiele Europäische Wochen Passau (with Sophia Jaffé and the Radio Symphony Orchestra Prague) and to Settimane musicali di Ascona Festival in Merano.
Leoš Svárovský often appears at the Rheingau Music Festival – with the Brno Philharmonic and Czech Philharmonic Choir of Brno – in projects such as Dvořák's Requiem (2008), Liszt's Christus, Massenet's Maria Magdalena (2010), Verdi's Requiem (2013), Berlioz's Romeo and Julietta (2014), and Dvořák's Stabat Mater at the closing concert of the 2015 Festival program.
His engagements have led him to perform in Prague, Brno, Salzburg, Wuppertal, Spain, Portugal, and at music festivals in Český Krumlov, České Budějovice and Bratislava, in subscription concerts with the Slovak Philharmonic, with the Radio Symphony Orchestra Prague in Innsbruck, with Massenet's Maria Magdalena in Brucknerhaus Linz,in the New Year's concert with the Stuttgarter Philharmoniker (2012), and on a German tour with the Radio Symphony Orchestra Prague (January 2015), etc.
Leoš Svárovský has performed throughout Europe, the USA, Japan and Korea. To name just a few orchestras Leoš
Svárovský has collaborated with: Orchestre de Pays de la Lorraine Metz, Mozarteum Orchester Salzburg, Bach Collegium München, Beethoven Orchester Bonn, Residentie Orkest den Haag, RTL Symphony Orchestra Luxembourg, Bruckner Orchester Linz, Orquestra Metropolitana de Lisboa, Shanghai Radio Symphony Orchestra, Radio Symphonie Orkest Utrecht, Colorado Music Festival Orchestra, Zagreb Philharmonic Orchestra, Seoul Philharmonic Orchestra, Presidential Symphony Orchestra Ankara, Dortmunder Philharmoniker, Staatskapelle Dresden, Tokyo Metropolitan Symphony Orchestra and many others. In October 2011 he made his debut with the Tchaikovsky Symphony Orchestra in Moscow. His collaboration with the Tchaikovsky Symphony Orchestra will continue in spring 2015 with a Prague concert to be held in the Spanish Hall of Prague Castle.
Не is regularly invited to Japan and Korea. He toured Japan with the Brno Philharmonic (2011, 2013 and October 2015) and the Slovak Philharmonic (2012, 2014 and July 2015). He has conducted a few subscription concerts with the Tokyo Metropolitan Symphony Orchestra.
Leoš Svárovský has also worked with many outstanding soloists, including R. Firkušný, J. Suk, V. Hudeček, I. Ardašev, P. Šporcl, V. Pikajzen, D. Geringas, A. Noras, M. Fedotov, C. Ortiz, G. Opitz, H. Hardenberger, D. Damrau, I. Oistrach, S. Vladar, M. Gauci,K. Ricciarelli, K. Rydl, S. Larin, N. Martinucci, E. Randová, D. Pecková, L. Orgonášová, P. Dvorský, R. Buchbinder, S. Kovatschewitch, A. Kontarski, Ch. Poltera, L. Josephowitsch, X. de Maestre, F. Say, U. Ughi, A. Korobeinikov, G. Bellucci, S. Jaffé and many others.
In order to gain something you must work hard.
I am one of those people who love all aspects of life.
I do not like meeting stupid, arrogant people.
For everything in my life I am grateful to my family, my parents and my diligence.
Sometimes we must all pay a price for success.
To live means to be healthy, successful and happy with everything I see.
I like beautiful women and fast luxury cars.
I hope one day to be able to say to myself that I have done no deliberate harm to anyone and that people liked me.
It is important to remember that no glory reaches heaven and that no one is irreplaceable.
Always strive to have a clean slate so that people hold you in esteem.
One must have as much money so as to secure a comfortable life for oneself and one's whole family,
so that the money only helps and does no harm.
I love Prague because the city has no equal in the world.