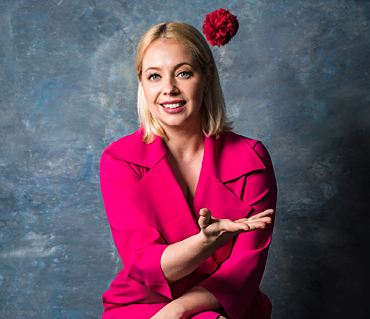 Soprano, multi-genre singer, presenter, artist, entrepreneur, founder of the Fassati Art Festival and Church Festivities projects, mother and wife. Age 37. Sign Pisces. Place of birth Prague.
Markéta Fassati is a woman of many faces. She is an important Czech soprano, multi-genre singer and presenter. At the same time, she is a founder and producer of several successful projects.
Recently, she produced the educational three-part series Czech Post Office Treasures, for which
she also prepared the script. During the pandemic, she founded the Church Festivities series, which she organizes every month in cooperation with Prague 1. This year, the 7th gala evening will take place as part of the international project Fassati Art Festival, which Markéta and her team regularly organize.
Markéta Fassati has sung on every continent in the world, opened the Olympic Games in London with the Czech national anthem and regularly collaborates with the best Czech and international musicians. She speaks Czech, English, Italian and German.
Her husband is the successful tennis coach Martin Fassati, and together they have a daughter
Marinka and a dog Zarley. They live in Prague and often travel to Italy, where the Fassati family roots come from and where there is a family vineyard of the same name in the Montepulciano area.
In order to get something, you have to know what you want, so that the efforts you put in will lead to satisfaction and happiness.
I'm one of those people who enjoy the little things. But at the same time,
I'm an unteachable perfectionist.
I don't like it when I see injustice and violence.
I owe everything in my life to the love of my parents, from which I was born, and the gifts I have from them and from God. Also my diligence, perseverance and motivation that my life's mission has a higher purpose.
We all have to slow down and breathe sometimes.
To live is to enjoy life and all that the miracle of life entails. To love, to sing,
to give and be given gifts, to embrace, to motivate ourselves and others, to educate ourselves, to evolve, and to do good and the world is a beautiful place to live.
And also to be able to solve problems and misunderstandings.
I like how kind and loving my husband is to me. The way my daughter calls me "mommy". How our dog greets me when I come home. When we host friends for dinner at home and have long conversations. When a concert goes well and the audience smiles. When I plan cultural activities and people already write or tell me how much they are looking forward to them. And when I please the people around me with my smile.
I hope that one day I can look back and say: "It was worth it."
It's important to remember that we only live this life here once and that we are still just visiting the world, and to have respect for history, nature, animals and each other.
Always strive for balance in life.
One must have enough money to give one freedom and not be tied down.
I love Prague because I was born here and I live my dream here.
The best professional is the one who is willing and able to keep working and developing.
My secret to success is having a goal and going for it, because the journey is the destination.