The Benefit Gala Concert in the attractive environment of Žofín Palace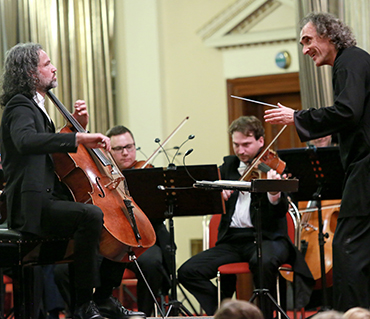 provided the truly exceptional cultural experience of a blend of music and visual art. The proceeds from this concert and the auction of paintings wil be donated to the Caritas of the Archdiocese of Prague and used to support the underprivileged and homeless.
Well-known popular presenter Alexander Hemala welcomed the audience. The evening started with an exhibition of paintings on sale by prominent Czech artist Dominik Mareš, with his personal participation and interpretation of the exhibited works. The program included performances by leading internationally renowned soloists – violinist Pavel Šporcl, cellist Jiří Bárta and pianist Dmitry Onishchenko. They were accompanied by the Prague Radio Symphony Orchestra under the direction of charismatic conductor Misha Katz. Taťana Pasična, Director of Unitas in Musica o.p.s., thanked all organizers and partners for the successful course of the fundraising event, as well as those who attended this event and who, by their presence, were supporting a good cause: "I believe that the funds obtained will help to change for the better the lives of those who, through no fault of their own, find themselves
in a critical life situation." STATUSS magazine was the media partner of the event.