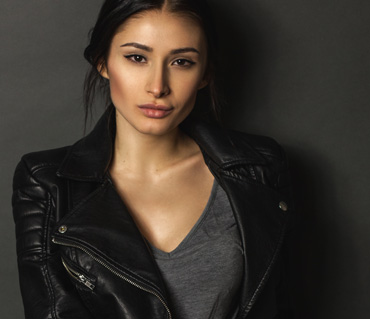 Photographer

How did you become a photographer?
In my memory there are so many bright moments. One of the most unforgettable ones happened when I was eleven years old. I really used to love snooping through my parents' things, and once I found three film cameras in my dad's things. Every day my mother gave me money to buy food at school, but I saved it to buy Kodak film. Every week, with a very serious face for a kid, I went to the photo center, where sales assistants smiled because of my photos, in which all of my friends posed in kind of weird clothes. I was thinking about something more that moment. I was buying albums and filling them with my own photos of people, cats, and nature. I was really happy with what I was doing then. As I was a really motivated and ambitious girl, by the time I was sixteen years old I was already photographing girls for a small fee. Everyone wanted to become my client because I retouched my pictures extraordinarily.
Meanwhile I was learning marksmanship in a gun club at school, and after every evening I spent at the shooting range, I paged through thick fashion magazines that really inspired me about fashion and photography. You know, even when I was assembling rifles and guns, I was thinking about photography. The fact that I was running home after my lessons to create a good style for tomorrow's photographs made me realize that my hobby would last forever.
How were you learning photography?
Before I was sixteen years old I learned it on my own. I was using websites only in urgent situations – for instance, when the model posed and I didn't know how to set up the lighting.
After school, I studied at the Academy of Art to become a camera operator and photographer.
There were three of my favorite places: the lab where we developed our pictures, the video operators room, and our handlers room, which seemed to be a magic gallery, where the aroma of coffee and cigars touched the air of this majestic and mysterious place. In photography I always had a unique way of thinking, and my professors did not share my vision, but after graduation one of my teachers booked a photo shoot with me. He is one of the most talented and successful photographers in Japan, and I'm really thankful that he was strict with me.

It's no big secret that to take good pictures you have to put people at ease, and to do so you must connect with them personally. How do you achieve this?
Through the years of practice, I acquired a skill for controlling the situation and the mood of the person during the photo shoot. It's really important to talk with a person about himself. Just imagine that you are looking at the camera. You are looking so concentrated on the process. You have some worries about your style. If you mimic or pose, it ruins everything. Just stop. Just relax. Look at yourself. You are beautiful and there is nothing that can make you look bad in the picture or ruin the shot. During the process, I'm your mirror. So just relax and confide in me. Does it work? Just look at my photos.
You have a huge team. Is it difficult to work with creative people?
When we receive an order for shooting, during the brainstorming session, every member suggests his or her own ideas. I listen to everyone without exception, but sometimes, when everything and everyone is ready,
I change my mind at the last minute. That makes me come across like a really weird person, when, ten minutes before shooting, I suddenly alter the details, style, and decorations. It's not because of the weather, but because of my mood.
All of my colleagues are good and mature like a fine wine, and they have been throughout the years in every situation, so I really appreciate them. But it's harder to work with clients who don't want to listen to creative people and their ideas. The client is always right and we always turn a blind eye when our best ideas are rejected just because of the standard vision of the photo. In the near future, we are going to make more creative photo sessions and video recordings to show society how boundless photography is.
Have you ever been troubled by some of the pictures you didn't take? Do you remember them? What do you feel about it?
I really want and am planning to take many pictures of what I have had in my head for a long time. For six months I've been mentally preparing for one really special photo shoot. What makes this shoot special? It's really hard to find the huge and sophisticated decoration I'm looking for – that's why we have our decorations done by our florist's hardworking hands.
Tell us something about your dream shoot. If you had a chance, who you would invite to the photo studio?
Oh, my mother.
Who's works have influenced your art the most?
The works of Patrick Demarchelier.
What plans do you have for the future?
The future is near. There are two newborn projects in May which will be extraordinary for Czech fashion photography. The Czech Republic has never experienced anything like what we are preparing. These projects will be interesting for makeup artists and for fashion designers. At the end of April, we will have the second shooting for the Abigail Style Salon and Wella Professional. We will create a new collection for different wedding styles and cultures.
Are you somehow taking part in social and political events or projects?
I do charity work in the Czech Republic, and I help animals around the world. There are thousands of charity funds, but one of them moved me more than the others. This fund was set up to combat farms that produce and sell dog meat in South Korea. In the Czech Republic I'm collecting provisions for low-budget dog pounds and I want to start my own fund.
Tell us about your most ambitious project in the Czech Republic.
It is shooting luxurious royal handmade dresses, which we have once in a season with a stylist from Ukraine, Olga Sadovska. She has really wonderful dresses and furthermore Olga has her own feelings and view on fashion, and that's why she creates such wonderful dresses, which every girl wants to put on at least once.
What's waiting for photography in 2019?
Anyone knows, because art changes and develops every day. That's why I'm sure that every photographer who has his own individual style will catch a breath of a fresh air and improve his skills with something brand new. Day by day, the Czech Republic develops in photography and I can tell you for sure that soon it will grow for the most talented professionals in spheres and directions of art.