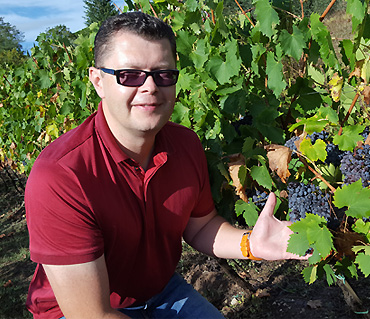 Vína z Portugalska – Selected Wines

How long has your company been operating on the market?
Our company is very young – only 3 years old. However, preparing to enter the market lasted much longer. It all started in 2007, when my friend, who has lived in Lisbon for 20 years, came to visit me in the Czech Republic. He brought with him some Portuguese wine from a world-famous manufacturer. I instantly fell in love with this wine, and of course, today I represent this producer on the Czech market. At that time, my friend was very surprised and upset by the lack of Portuguese wines in shops in the Czech Republic, and began to persuade me to supply the wine… In 2015, I made that decision.
What are your prospects for development for in near future?
Today I represent 9 manufacturers, and I have more than 80 types of wine, such as sparkling or still, and port wines. Of course, I plan to expand my product range, to search for new interesting producers. I have already started and will continue to organize monthly product tastings or thematic (seasonal) degustation for our existing and future customers. During the degustation, you learn about the Portuguese wine industry (Portugal is the 7th-largest exporter of wine worldwide), the region (terroir), the producer, and the manufacturing technology, and most importantly – you can test 8–12 types of wine and get acquainted with possible combinations with meals. This allows you to choose the best wine for everyday sipping as well as for celebrating. Of course, most customers come to me for advice, but how pleased you will be to make the right choice on your own!
What is the philosophy of your business?
Our slogan: "Life is too short to drink bad wine." The most difficult thing in our business is to choose wine that will appeal to my customers. It is no secret that wines with top scores from the world's top wine critics are often unpopular. I try to offer good wine at a reasonable price.
Your secret of success?
It is far too early to talk about success. In the wine world, 3 years is the age of an infant. However, there is growth in this business, and I see great prospects.