Magnificent Miskawaan – Luxury in the Finest Setting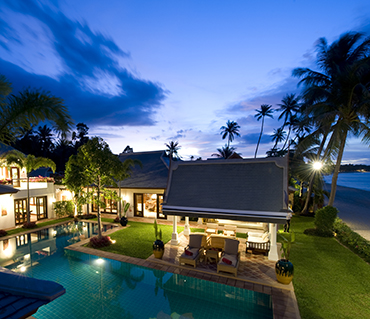 Undeniably luxurious, unmistakably Thai, Miskawaan Villas delivers the holiday experience of a lifetime, thanks to a truly idyllic marriage of comfort, facilities and unforgettable surroundings. Each of the nine beachfront villas boasts its own individual features and layout, with all offering a degree of privacy, personal service and understated style that discerning guests find irresistible.
Discreetly nestled between a backdrop of lush green tropical palms and a pristine ribbon of beach gently lapped by crystal-clear tropical waters, Miskawaan Villas are exceptional. Opened in 2008, they provide five-star accommodation, location and service and the kind of privacy that few high-end resorts can offer. Eight of the villas are on serene Maenam Beach, in the North of the island, and one is on Big Buddha Beach, just minutes from the famous large golden statue.
Sleeping between four and twelve people, each villa has a different layout, each one is furnished to the very highest standards. Take Villa Lotus, for example. This magnificent six-bedroom villa comprises three pavilions surrounding an L-shaped pool, guarded by delightful elephant statues. The left-hand pavilion consists of a fully-fitted, very modern kitchen and a spacious additional outdoor dining area and comfortable lounge. At the villa's rear, the two-storey pavilion comprises a games room and twin-bed en-suite bedroom on the ground floor, and on the first floor a double bedroom opens on to its own balcony. Next door are three further twin bedrooms with en-suite facilities. The villa's huge master suite features a Jacuzzi and private office and occupies the entire third pavilion, which is adjacent to the villa's stunning swimming pool. Cotton robes and slippers are provided in the bedrooms, Erb brand spa products in the bathrooms and a 50-inch LCD television with satellite connection in the living room. It also has an enviable 39-metre beach frontage, so you're never more than a few steps away from the ocean.
Meals can be taken indoors or under the outdoor sala overlooking the beach. In addition to a Villa Manager, who lives on-site and is on call 24 hours per day, there are two housemaids dedicated to the villa and you can have your own personal chef to cook all your meals. The menu is more comprehensive than most of the restaurants on the island, with over 100 dishes to choose from. All the Thai specialties you would expect are there, as well as regional delicacies and imported Australian beef and lamb. If you are a keen cook, you can go with the chef to the local markets and learn more about Thai food and even join the chef in the kitchen for a personal tutorial. When making your reservation, all your dietary requirements will be discussed with you well in advance. Given a day or two's notice, they can also source just about anything from around the globe. Lobsters from Maine, Alaskan Salmon, New Zealand green-lipped mussels or Mediterranean scallops. And that also applies to wines, beers, spirits and soft drinks. Just let them know what you like and consider it done.
Miskawaan is also a popular destination for weddings. A venue like Villa Lotus can hold around 60 guests comfortably for a beach wedding ceremony and evening reception. And if you book well enough in advance, you could take over the whole estate, making it a very exclusive and memorable occasion.
www.miskawaan.com