Constance Hotels Maldives. Fairytale Land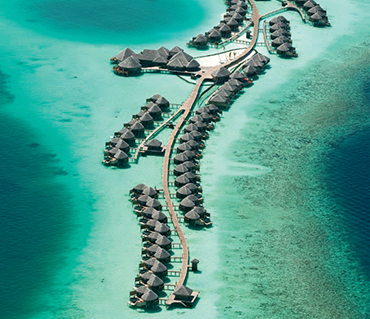 The Maldives, officially called the Republic of Maldives, consists of many islands located in the Indian Ocean near the equator. The appearance of a tropical paradise is enhanced by beautiful sandy beaches lining the entire coastline, clear water, coral reefs and a great variety of fauna and flora. The most popular period to visit the Maldives is from February to April, when the islands experience the most sunshine and the warmest weather.
The Halaveli Resort is one of the two Constance Hotels complexes located in the Maldives. This enchanting oasis is situated on the North Ari Atoll, where it offers accommodation in 86 luxury villas, close to a turquoise lagoon. In Le Spa de Constance, top therapists take care of the body and soul of their visitors via high-quality massage, whirlpools, saunas and numerous other pools. Gourmets will be delighted by the three restaurants, where meals of the highest quality are served. Sports enthusiasts can use the tennis court and volley ball playground. Diving fans will appreciate the TGI Diving Centre.
The second resort, the Constance Moofushi Resort, located in South Ari Atoll, is renowned as one of the best diving spots in the world. Here, barefoot elegance combines with total luxury. Accommodation is available in 86 water villas and 24 beach villas. First-class delicacies are served in two restaurants, while two bars provide excellent entertainment to visitors. Le Spa de Constance, situated on the water, offers natural healing through massage and the use of special oils. Guest may use the energy gained from the sun in the swimming pools, doing aerobics, or by scuba diving and snorkeling.
www.constancehotels.com