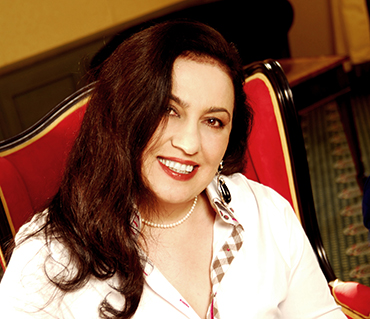 Majitelka restaurace Pirosmani
How long has your company been operating in the market?
Pirosmani, the Georgian restaurant in Karlovy Vary, celebrates its 22th anniversary this year! It is the venue where you can relish the flavoursome unbeatable cuisine, delight in the refined interior and enjoy the privacy in a circle of friends.
The basis of the menu naturally consists of Georgian cuisine, but European cuisine and vegetarian dishes are also available. Several types of shashliks, diverse salads and soups, traditional delicacies, amazing desserts – such a vast choice that you will not even be able to taste it all! Pirosmani also offers a wide range of Georgian wines, cognacs, vodka, famous mineral waters and many other wholesome and tasty beverages.
What are your prospects for development in the near future?
In future, I intend to do all I can to make sure my business is stable and guests in Pirosmani restaurant are always satisfied. Whether you are celebrating a wedding, relaxing with friends or spending a romantic evening – you will be welcomed with genuine Georgian hospitality every time.
Your secret of success?
It is necessary to be engaged only in what you really want to do, what you like and enjoy doing – and success will follow. Achievement will always charge you with positive energy and the determination to achieve even more. If you fail at something, but have devoted yourself fully to the relevant task, then even that failure provides the opportunity for further professional and personal development.