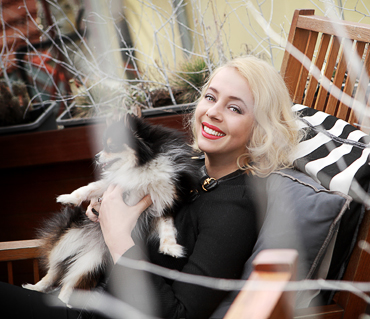 If you expect acclaimed opera singer and multi-genre singer Markéta Fassati to be a spoiled diva, you will be pleasantly surprised. The young talented artist, who was born in an important family of musicians, can only amaze her audience and let them admire her for her beautiful voice and art.
In addition to singing, she also invents and implements projects that take the music that is her mission to a whole new level.
You probably can't avoid music if you come from a musical family. You have it in your blood. You took care of it as a child. You later graduated from studying music, and it also became your profession. Was it a predetermined way of life for you? Or did your parents leave the choice to you?
Music and art have accompanied me since I was born. My dad was a very important conductor, choirmaster, and pedagogue. My mother taught music theory and piano. The apple did not fall far from the tree. And I'm very happy about that. Above all, my life's mission is to make music for myself and my surroundings. Art, as such, connects people across continents, religions, and language barriers. I have traveled professionally all over the world for many years and it always makes me happy and warms my heart when I see music arousing emotions in listeners. Hopefully the world will recover soon and we will be able to travel freely again.
Can a family full of musicians agree on choosing music for special family occasions, for example? Who has the last word with you?
I have five sisters, so there was never a shortage of discussions on who should decide. However, as long as my dad lived, he was the one who was deciding. My sisters and I do not perform together musically – each of us has our own professional life and each of us works in a different field of music. We made an exception ten years ago on Dad's 70th birthday, when we performed together.
You mentioned your father, Professor Lubomír Mátl. He was very important to you. He would be celebrating his 80th birthday this year.
Yes, we were very close. Humanly and artistically. We've been through a lot together. We met regularly on concert stages at home and abroad. We are both Pisces and are very spiritual. Consequently, our conversations were always very deep. My mom found a great man! Conversely, Dad chose a woman who was always very strong, loving, and caring and who devoted her entire life to the family. I believe he would be proud of me. I try to follow in his footsteps.
Your repertoire is wide, you collaborate with prestigious ensembles and with your voice you enchant audiences around the world. Which of all your positions and genres do you enjoy the most?
All of them! What I sing always fills me. There is only one music for me! And it is the one that is high quality, arouses emotions, and leaves us with a beautiful experience. And you can see it in my audience, which recharges me. I enjoy listening to the same wave as I am at that moment. I try to tell them something from the story or background of the songs I sing. And then the experience is much deeper.
Do you sing in many different languages? Do you perceive how important it is to understand the story? Or do you first let the melody of the individual songs affect you? And how many languages do you  yourself speak?
They say that as many languages as you speak, that many times you are human. I agree with that! I speak English, Italian, German, and a little Spanish. When I was in China for a long time, I tried to learn something in Chinese. I sang Chinese national songs, just like the Japanese ones in Japan. Now I'm learning Peruvian and Russian songs. At first, melodies appeal to me, but without meaning and content, musical works would not be complete. So yes, I want to and I need to understand them. I have friends all over the world and we always find some common ground.
You are also active outside the singing field. You have started various projects. You have released several CDs. Where do your managerial skills come from?
I am a systematic person, which is manifested when I am off the stage. But once I'm on stage, I am an artist with everything. It's true that it fills me to invent and organize projects, release new CDs, and most importantly, connect different people together. I'd say I'm doing best. I have an excellent team that I work closely with, without which it would not be possible, and I hav a great husband who keeps his fingers crossed for me!
Years ago, you founded the international project Fassati Art Festival. What led you to this?
The desire to surround myself with people, art, and an environment of my choice. Fassati Art Festival is an art project where music, exhibition, architecture, design, tasting, charity, and most importantly a friendly environment merge during the evening. And I also wanted to create and build a brand with my name that I can be proud of! I cannot forget the importance of the partners without whom these gala evenings would not have taken place. We chose a date for this year in the fall.
During the difficult time of the covid epidemic, you have founded an interesting Church Festival project. Beautiful idea! How did it all come about?
It is said about Prague that it is the city of a hundred spires. And most of them belong to the churches. However, thanks to everyday worries, we often miss the beauties and secrets that churches hide. The main theme is to present a different Prague church every month. In the current online version, we invite you to tour a church during the broadcast. We will present the history and order of the church administers. I invite different guests every time and each musical performance has a different theme. Many thanks to the management of Prague 1 for their cooperation. Without this support, the festivities would not have taken place.
Culture is one of the most affected areas in the current global situation. How do you deal with the impossibility of performing live in front of an audience? Emotions are essential for culture and music…
On my CD Emozioni, I have once wrote: "Music is emotion and emotion is music. A man without emotions is like music without a melody." Who would have guessed that this would be so relevant at this time. I see myself and my surroundings – how, after a year of isolation, we have the lack of social life and lack of opportunity to share joys and worries. However, I deal with this situation as best I can. I am a very adaptable person. I am very charged and inspired by our regular online broadcast of Church Celebrations. Technology allows us to meet virtually but it cannot replace hugs.
What else are you currently doing professionally? What can we look forward to?
We are preparing the already-mentioned Fassati Art Festival and Church Festival. We are also rehearsing Italian songs with the guitar duo Siempre Nuevo, with whom we plan to perform in Italy this year. And last but not least, I would like to add a new CD to my collection this year. There are plans and we believe that we will be able to implement them.
Two gala events will take place in 2021!
PRAGUE
Brevnov Monastery
BRNO
Governor's Palace
Markéta Fassati
soprano
James Westman
baritone
Ivo Kahánek
piano