Singer Jan Smigmator is issuing a new album!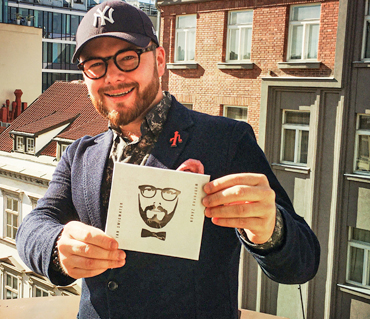 Something is coming up. It's something different. And it's fine! It looks like the year of 2020 itself, when coronavirus is trying to impose its tempo and melody on us all, has poured into Jan Smigmator's veins some extremely kind and wild transfusion. The shiny podium with reflectors and a big band at the back which he was used to in a great series of Sinatrology concert projects has been exchanged for a different world. In summer, he started jamming in his own garden and revived Jazz Piknik, one of the most original music projects of the COVID period. Moreover, the smallest jazz club in the world is going to make it.
On that CD he stepped out from the steam of caressing and well arranged Sinator melodies to more messy and original sets. Smigmator systematically and indefatigably works on himself, goes to New York to attend singing lectures of the legendary American singer Marilyn Maye, and it's as if the tempo of the city that never goes to sleep and has all colors of the world got under his skin even deeper than Sinator's I've Got You Under My Skin.
Harlem/Brooklyn sound album was provided by perhaps the most successful Czech jazzman today, Ondřej Pivec and his Hammond organ. Smigmator seized it for a couple of weeks or months for number one star Gregory Porter, and Honza with Ondřej are successfully working with it. They edited the world's classic Feeling Good, with text by Ester Kočičková, so that Nina Simone, John Coltrane and Michael Bublé would have to stop to listen to it: "What? That's pretty damn good!" It is as if Feeling Good represents the way Jan Smigmator is feeling now.
It does not matter if it is a crisis or not, he came on it very fast – and when you go right from Brno to Harlem, the listener will have their socks blown off. The song An Express to Harlem, by bluesman and eccentric Darek Neumann, which was written when Smigmator was conceived and first appeared in 1986 when he was born, is taking Honza by train on the wave of Hammond organ layer drums so naturally that one would believe Smigmator goes to Heršpice to Harlem cellar dives by that train daily. One can say the composition represents the new CD more than Murphy's law, named because of the basic rule "Anything that can go wrong, will go wrong", has been replaced by Smigmator with "Anything that can succeed this year, will succeed."
In that album Jan Smigmator is also represented as the author of some of the texts, and, together with a Czech-German pianist Svatopluk F. Smola, as the music co-author. Besides the actual production and world standards, the CD contains a few songs from the repertoire of a German singer Roger Cicero, for which the Czech texts were written by Václav Kopta, Josef Nečas and Ester Kočičková.
The CD, which was produced by the mixed genre pianist, arranger and producer Jan Steinsdörfer (Ewa Farna, Chinaski), was played, among others, by the piano virtuoso Ivo Kahánek and has been issued for 10 years since the very beginning of Smigmator's solo career and 5 years after representing the successful Sinatrology project and Jan's 5th album. The 20 compositions, in which Honza is represented in all his voice pitches, show there can be an essential change station to the next five-year plan. And then the steaming fast train will move even faster. It's robust. It's something new. And it's fine!
Petr Šimůnek
sleeve note alba Murphyho zákon