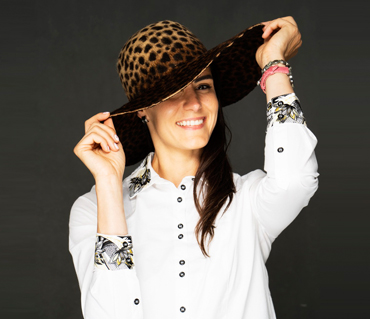 Hats designer
When and how did you start your production?
I haven't been on the market for very long – less than a year. I haven't even looked around yet, and I already had my first exhibition on the topic of Very British, which was a great success with the general public, and the first orders followed.
Who inspires you to create?
I am inspired by great artists in the field, such as Philip Treacy. In my work, I like both classics and extravagance.
What can clients expect from you and how do you differ?
I like a personal approach and create on request. I am able to make any hat according to the client's requirements, whether it is designed to be worn daily as a favorite piece of clothing, or for a special occasion, such as racing, polo, theatre or opera.
You originally had a different profession, why did you start making hats?
Yes, it is true. I felt for a long time that I needed a really big change in my life. So I took a big step into the unknown and finally started doing something that I enjoy and which is fulfilling. I love this beautiful work, it is incredibly varied and diverse, you can do almost anything. Each hat has its own client. Hats are my passion, they have a great history around the world at different times, so I would like to teach today's women to wear hats. A hat is like the icing on every woman's cake. It is an accessory that can make a woman's outfit complete. Only confident women wear hats.
Tel.: +420 606 962 002
pinterest.com/petrapleskotova
instagram: millinerybypetrapleskot
www.millinerybypetrapleskot.cz